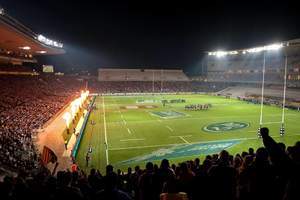 Sounds like a TV period costume drama; maybe it was. My wife and I had been shouted a trip to Auckland for the night with tickets to the All Blacks v South Africa test match.
We stayed at Newmarket so that we could wander down the road to catch the train to Eden Park.
First mistake, as the trains were not running from Newmarket, but had been replaced with a free bus service departing from Remuera Rd off Broadway.
My wife was adamant that we catch the free bus instead of walking to Grafton station to catch the train, as the bus was closer.
My memory of buses to Eden Park was one of chaos. They were late or overcrowded and parked at Eden Park like sardines so it was hours before anyone was able to leave.
However, my wife won, so dressed up with jackets, scarves and beanies we wandered down to Broadway in the hope that we found the correct bus stop.
No worries there as we saw a crowd milling round the stop with a Yellow Coat marshalling everyone.
We were directed on to the bus and shortly afterwards were mobile.
It was not the quickest route but it brought back memories as we drove past Potters Park, where I had played some games as a child, and on into Sandringham Rd where I could start to smell rugby in the air.
We were directed by more Yellow Coats to our stop where, after alighting, we were directed by even more Yellow Coats to our correct entrance.
Because women always seem to carry bags, my wife was directed separately so the Yellow Coats could search for something apart from the usual contents. I do not think there was room for anything else.
Onwards to under the West Stand, where there were all sorts of painted people carrying flags of their nation and backpackers and tourists who had made this their special night out. All so colourful and buzzing with excitement.
The hot dog and chip stands were busy and the beer counter was overcrowded, and still an hour to go before kickoff.
We wandered up to our seats in the West Stand (the old No3) and saw that the old No4 Stand had gone, replaced by the ASB Stand.
The terraces no longer existed, replaced by the new East Stand, and the old No1 stand had been replaced by this concrete edifice that must have been at least 10 storeys high.
What happened to my old Eden Park? It was then that my wife reminded me it was just on 40 years ago since I played my last game on this hallowed turf. Expect some changes, man.
The field was busy with entertainment and dancers, the test players were out there warming up, kicking footballs and doing whatever things they now do before a game.
As I stood and viewed the venue as a whole, I could not help but feel nostalgic about the old Eden Park, but was overwhelmed by the transformation that had taken place.
It was magnificent and I only wished that I could still be part of it and play today. There was so much going on around the venue that at times you forgot you were here to watch a test match.
Ha! The haka has started. Look, you can actually see the whole team doing it. (On TV all you see is bits of bums and tongues.) What a difference it makes as a spectacle.
Then the national anthems, with the South Africans sitting near us singing in unison. Then the game.
The game finished, and my wife and I headed back to the bus with trepidation. No worries there, for the Yellow Coats were waiting, directing us to where we wanted to go.
On around the loop to our bus stop, where more Yellow Coats directed us on to the right bus and back to Newmarket.
As we sat having an ale in an Irish pub in Newmarket, it all seemed to have happened so fast and we wished that we were only starting on the journey that had begun hours ago.
It was the most entertaining night out we have had for a long time and thanks must go to Eden Park, the NZRFU and, most of all, the Yellow Coats.
I almost forgot - the game was great also.
* Peter Grant, now of Whitianga, played seven games for Auckland at halfback in 1970.