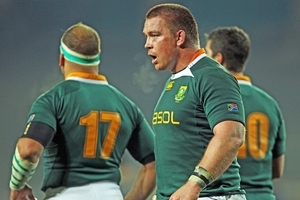 He's become as essential as the cement in a wall, the key ingredient that holds it all together. Remove John Smit from the Springbok team and the whole edifice threatens to collapse. Figuratively and literally.
Since the start of the millennium, Smit has been a virtual fixture in South African international rugby sides, certainly since 2004 when he was made captain.
The boy who was always destined for leadership has come a long way from his early days. He was schooled at Pretoria Boys High, where his leadership qualities were quickly detected. Smit became head prefect in 1996 and a life of leadership and responsibility stretched ahead of him.
Almost a decade after he first wore the Springbok jersey, Smit is now nearing 100 test caps for his country. This weekend in Wellington he'll win his 98th, setting up the enticing prospect of his 100th in August when New Zealand play the Tri-Nations test at Johannesburg.
Smit has a list of statistics as long as your arm, almost every one of them extraordinary. He's the most-capped leader in international rugby history, he led South Africa to Tri-Nations triumphs in 2004 under Jake White, and again under Peter de Villiers in 2009, the year the Springboks also won a test series against the Lions. In 2007 he captained his country to the rugby World Cup title.
But enough of statistics. What sort of a man is John Smit? Shrewd, is the first accolade that fits. Anyone who leads a country as turbulent and knee-deep in sports politics as South Africa in more than 70 tests and survives to tell the tale is earning a pretty rich grounding in the world of diplomacy.
Rival factions, among administrators, wannabe-presidents, coaches and players, all combine to make for a fascinating potpourri of human behaviour. You need a man with the determination and strength of Sisyphus, the authority of a Governor-General and the sense of humour of a comedian to survive in such a world. John Smit has a bit of each and he's needed such qualities during his long years in charge.
Of course, he's become as much a symbol of South African rugby as the leaping Springbok on his jersey. Without him, this team simply is not the same.
We saw that during the 2008 Tri-Nations when Smit damaged a groin as he was dumped by All Blacks lock Brad Thorn, in the opening game of that year's tournament at Wellington. The Boks had to soldier on through the rest of the campaign without him and never looked like masking his absence.
In 2009, there was another extraordinary example of Smit's immense value to the Springboks. Coach Peter de Villiers, mindful of Smit's importance in the remainder of the series against the touring Lions, took off his captain too soon with the Springboks, it appeared, home and hosed at 24-6 in the opening test in Durban.
When the Lions suddenly revived against a Smit-less South Africa, threatening to snatch victory, the captain had to rumble back on to calm fraying nerves in the last five minutes. Knees were knocking like doorbells on a windy night as the Boks stumbled without him.
Smit was the 50th man to captain the South African rugby team and there is a pleasing symmetry in the statistic that he will pass 100 caps this year, injuries permitting.
Versatility would be another quality high up in Smit's lexicon. When Jake White departed as Springbok coach after the 2007 World Cup triumph, it would have been easy for Smit to stand down too, especially when a very different coach, de Villiers, took over.
But de Villiers was no fool; he quickly reappointed Smit as captain realising that continuity in personnel was key to his own successful future. Smit accepted, coming home early from a French sojourn with Clermont Auvergne, seamlessly adapting to a new coaching master.
He is reputed to have said since, albeit privately, that de Villiers was a sound choice, perhaps even a better coach more suited to the job than White. Maybe he had in mind de Villiers' ability to handle the expectations of his demanding bosses at the South African Rugby Union, and let the inevitable brickbats and criticism bounce off. White got seriously bothered by all that.
Whatever the truth, Smit offers a professional, wily countenance to the outside world. He handles the questions of his media interrogators with the assurance of a slip fielder snaffling outside snicks and he rarely stumbles, either off or on the field.
Maybe, for all his personal statistical milestones, John Smit's greatest achievement has been the respect he commands from his peers in the team and all within South African rugby. Within that cauldron of intrigue, plotting and machinations he manages to stand aloof from the frantic posturing and poisoning.
That alone is some achievement, never mind 98 test caps.
Peter Bills is a rugby writer for Independent News & Media group worldwide