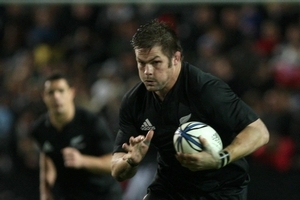 In the cyclops world in which some New Zealand rugby followers dwell, the All Blacks will repeat their vast Eden Park-winning margin tomorrow.
For those with greater peripheral vision, this looms as a much tougher contest than a week ago.
Why? There are a multitude of reasons. Last Saturday was a hell of a beating - a 20-point thumping, though it was well short of the record 52-16 walloping they delivered in Pretoria in 2003.
The All Blacks will do well to play or be allowed to play to the standards they showed in this start to the Tri-Nations. The Tri-Nations champions, who include the core of the Bulls side which won the Super 14 crown this season and others who annexed the last World Cup, are not a dud team.
They had a dud game in Auckland, losing 32-12, while the All Blacks were in a zone to which they would love to return on a more regular basis.
The Boks lost their way, they looked bereft without the tactical leadership of halfback Fourie du Preez and, while he will not reappear tomorrow at the Cake Tin, it would be foolish to think the Springbok fire will not. They looked a shade out of kilter at Eden Park, perhaps as a result of arriving late for the test, perhaps with some complacent hangover from the Super 14.
And while they were dealing with those issues, the All Blacks were crisp, they were intense, a half-a-metre quicker to each piece of play than the Boks.
So what will the old enemy do tomorrow? They should have held a prayer meeting and thanked their Almighty that they have a chance to redeem themselves, instead of accompanying Bakkies Botha on his return trip of shame.
Like all good teams they will face each other, ask where they can each improve and demand more.
Men such as captain John Smit and Victor Matfield are closing in on 100 tests, fellow forwards CJ van der Linde, Schalk Burger and Danie Rossouw have each clambered over the half-century mark. In the backs, Jean de Villiers, Jaque Fourie and Bryan Habana have also busted that tally, with halfback Ricky Januarie closing in, too.
Stacks of experience, though some may be a little weary or one-dimensional, such as Burger.
It is the spine of the side where the test will come, the 8-9-10 axis which has proved such a concern for other sides trying to crack the big-time consistently. Pierre Spies is a dynamic athlete with the ball, but not quite so effective when he is forced into repeated sets in the defensive line. His work-rate does not match that of one of the rising men in New Zealand rugby, Kieran Read.
Januarie is a combative, serviceable halfback. He stacks up strongly against Piri Weepu or Jimmy Cowan. But he is no Fourie du Preez, the hub of the Bulls' and Boks' strategy for so long. The absence of du Preez's kicking and defensive impact is most noticeable.
Outside, there is Morne Steyn, a metronomic place-kicker and punter when he has time and opportunity. At Eden Park his possession was restricted, the All Blacks forced him to hurry his work and he was put off.
Springbok coach Peter de Villiers, his assistants, Smit and the senior players have a significant job to repair the damage from Eden Park.
That should not surprise De Villiers, who predicted this year: "We have to show improvements from 2009. We have to evolve, too, because what worked for us last year will not work in 2010. That's a certainty."
If his words had the air of pre-season window-dressing, they took on a new hue after last week.
Habana thought the Boks had to improve by about 40 per cent if they were to cut it with the All Blacks. Hyperbole perhaps, but the tourists have to improve everywhere.
They should have known they could not bully the All Blacks, they had to find more subtle ways of breaking down the defences than trying to smash through them.
Variety would be a start, but then that has not been a regular Springbok companion down the years. Instead, they will arrive at the Cake Tin tomorrow night with more heat, more steel, more determination.
They will back themselves, they have not had their confidence punctured. Dented, yes - but not broken. And they know they can save this mini-tour of Australasia with a result tomorrow.
They can achieve that with suffocating pressure, but the All Blacks have shown how quickly they can respond and punish mistakes. They want a double result just as badly which makes this test even more intriguing than the Eden Park encounter.