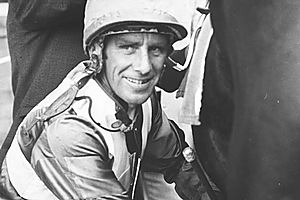 Someone once said: "Looking back in retrospect at things that happened in the past it could be recalled ..."
But once was all they said it - before they were thrown out of journalism school.
It shouldn't stop us looking back.
And when you go back 25 years in horse racing you realise, firstly how quickly that time has passed and how many characters have been lost to the industry.
Also, how important it is never to be afraid of being different.
Three headline makers were among those that left horse racing a quarter of a century ago during the 1984-85 racing season: Bill Skelton, John Grylls and Bill Sanders.
No one ever accused one of that trio of being a copycat.
Start with Te Awamutu-based John Grylls, father of now retired jockey Gary Grylls and grandfather of Craig Grylls.
For starters, identifying the most popular person in racing would be a very strong form race, but Johnny Grylls would have been a top-three contender any year.
In terms of style Johnny rode closer to a Queensland boundary rider than to Frankie Dettori, but for what he lacked in deportment he more than compensated for with a canny knack.
It won him the 1975 Auckland Cup on Hawera mare Kia Maia.
One of the best, Matamata trainer Jim Gibbs always maintained Johnny could tell him more about a horse after a race than just about any other jockey.
Bill Skelton was unique.
No one ever wanted to try and make young apprentices follow Bill's style in the saddle for two reasons.
It didn't look pretty and it was unique so it was impossible to duplicate.
Yet Bill did better than anyone else that thing that is quite important in racing - getting the horse to the winning post first.
When Bustling Bill retired he held the record for the greatest number of career wins, 2156, achieved when they had half the number of race dates of today.
Visual perfection is wonderful - banking the cheque is better.
They've never paid extra for style.
But if you want to talk different Bill Sanders was it.
Bill was known as the chemist, simply because that's what he was in Te Awamutu.
He broke the mould of the traditional topline horse trainer that came up through tough times in hard-bitten stables.
Bill was an academic with an incredible capacity for knowledge on so many levels. Another mould he broke was how to train them.
Bill worked his horses hard - harder than most believed possible - and those that could cop the boot camp were impossible to beat for fitness on raceday.
He called them "professional racehorses" and that's what they became, or they moved on.
Despite having little background with horses, Bill ignored his catalogue at the yearling sales and bought almost exclusively on type, often for a price-tag equal to a round of drinks.
Yet the list of topliners through his stable was staggering.
March Legend, Barellan, Rochdale, Fairview Lad, Quick Answer, Lu Filou, Choucuana, Amie, Mayo Mellay, Bound To Honour, Loughanure and Shaitan were just some of the talent that made us all aware that Bill Sanders was not only one of the greats, he did things his own way.
He wasn't afraid to be different.