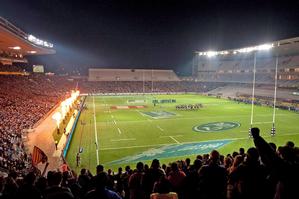 The home of next year's Rugby World Cup, Eden Park, is almost through its multi-million-dollar facelift - but it already needs a brighter complexion.
Sky Television is working with park authorities to improve the lighting responsible for a darker-than-usual broadcast of Saturday night's All Blacks v South Africa test.
In the redevelopment, grandstand roof lights have replaced light towers.
Sky executive Tony O'Brien said some camera positions were affected by the new lights not being up to full capacity.
"It's very technical but it takes some time for them to come up to their full luminosity."
The lower levels and new angles of the lights are understood to have caught a few players out on Saturday night. All Black centre Conrad Smith said they sometimes got caught in the line of sight.
However, it is the low brightness levels in the corners of the ground that are the major concern for broadcasters ahead of rugby's showpiece tournament next year.
Mr O'Brien said the International Rugby Board had a minimum "lux" requirement.
"On some camera positions, we're working through the issues with Eden Park and we're confident it won't be an issue for us."
Rugby New Zealand 2011 executive Nigel Cass said "clearly some review work and refinements" were needed.
He said it was expected that the IRB's minimum would not only be reached but exceeded at major grounds such as Eden Park.
"It's something akin to tuning a piano. You in effect tune the lights to make sure there is an even spread."
Mr Cass said his organisation was otherwise happy with the way the redeveloped Eden Park came through its first real World Cup trial, with transport, accreditation and ushering going well.
Eden-Epsom Residents Association chairman Christopher Dempsey said he was surprised that stadium authorities did not appear to have thoroughly thought out the lighting issue before starting the project.
"We're fine with the lights going up [in luminosity] as long as it doesn't have a detrimental effect on the residents. People do get aggravated by light spill."
Eden Park Trust chief executive David Kennedy said stadium authorities would meet Sky this week to discuss the lights.
He said people had to also remember that not all of the new lights had been installed - some were still to be put in on the north-eastern part of the park.
Meanwhile, some test spectators at Saturday's test got less than they paid for when the electricity went out and the toilets failed to flush. Power to part of the ASB and East stands was cut off for about 10 minutes.
Authorities said last night that the electricity fault was due to new equipment - which had been brought in that day - not being fitted properly.