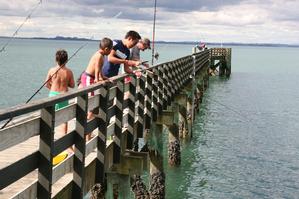 Most who love the lure of green water and the hidden promise that it contains set out on their angling path by dropping a line by the piles of a wharf.
For those with grey hair it was a green hemp line, while later generations have benefited from modern marvels like monofilament line. But those first steps usually involve a hand-line wrapped round a stick, progressing to a short rod equipped with a cheap spin reel and from there the whole world of sport fishing beckons.
In Auckland, the Cornwallis Wharf on the western shores of the Manukau Harbour has nurtured countless anglers, and still does; and if the planks and rails could talk they would tell a thousand stories. A few years ago the old wharf was in danger of being lost. The planks were in disrepair and the authorities threatened to close it for fear of somebody being hurt.
But as communities are wont to do, the local people banded together and raised funds through the smart approach of selling planks to individuals.
Sufficient money was raised and the wharf was renovated and today it is decorated with a myriad of bronze plaques which record those who helped save it.
It is still a favoured fishing spot for many Aucklanders, and every day sees a variety of rods and lines protruding over the water. They catch everything from spotties and sprats for the juniors to kahawai, trevally, gurnard and snapper at different seasons.
The occasional kingfish and ray are hooked, but only the small ones make it on to the planks.
Many years ago a fishing friend used to visit Cornwallis Wharf whenever he felt like a little entertainment. Frank made his own rods and if fish could talk he would speak their language. He would take a frozen yellowtail - or more correctly, a jack mackerel - about 30cm long, and he would trample it on the deck until it was nice and squishy and leaking juices. This whole messy bait would be impaled on a large hook and cast out to where a huge stingray lived in a hole. Frank knew that he would never actually land the ray and had no desire to, however, he enjoyed the thrill of hooking it.
One bright Sunday afternoon he arrived at the wharf to find a particularly loud and unpleasant character giving unwanted advice to all the people who had been enjoying a quiet afternoon's fishing. Frank started chatting to this fellow, who had an exceptionally red nose and large girth. He mentioned that he had occasionally hooked a large fish just out past the yellow marker - over there, actually - but had never seen it. "No trouble to me. This new rod can handle anything in the harbour," brayed the fellow, pointing to a shiny telephone pole with rings on it.
Frank produced a steel trace and shark hook, and suggested it might be an idea to attach it to the line on the new rod. He then trampled on a 30cm yellowtail until it was squishy and leaking, and politely offered it as an attractive bait for big fish. It was accepted and a loud commentary ensured everyone learned how to catch a big fish. The cast dropped the bait near the hole and the fellow was busy recounting some of the epic battles he had had when his new reel started clicking as line was peeled from the spool. Frank suggested it might be a good idea to crank the drag up tightly to set the hook, which the large bloke confirmed: "Of course that's what you do."
As he hauled back on the telephone pole the effect was rather remarkable. He was suddenly propelled across the wharf until the railing caught him in the stomach, stopping him just as suddenly. The air left his ample body in a whoosh and the telephone pole, caught on the rail, snapped with a loud crack. "Must have been a big one," mused Frank as the expert was trying to find his feet and his breath.