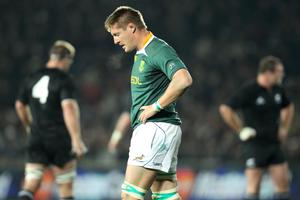 Nine weeks sounds like a long rugby ban.
In the case of Bakkies Botha it isn't long enough.
Botha should have got a year for what he did to Jimmy Cowan at Eden Park, also taking into account his history of thuggery.
Why a year? Well, I've plucked that figure out of the air, but it sounds about right, and much more right than nine weeks.
The best that could be said of Botha is that he admitted to head butting Cowan from behind, on the ground, and apologised. Given the outstanding video evidence against him, there wasn't much else Botha could do but nod, politely this time, in agreement.
Rugby doesn't have a violence problem - it does have a Botha problem though. This pillar of the Springbok pack is a pillock.
Maybe the game simply needs to clean him out, for good, the way Botha does when he charges head first into opponents and rucks.
There might be one worse offender in modern times, the boneheaded English lock Danny Grewcock who habitually mistook the human form for a trampoline.
Botha almost ranks alongside though, with a despicable history of belting, stomping and eye-gouging (or attacking the face as it was put) and allegations of biting.
Botha is also turning into a liability for the Springboks - and should have been sent off in the first minute for his cowardly attack on a prone Cowan - although that is their problem.
The violence is rugby's problem though, and rugby's response is unco-ordinated and unsatisfactory.
A head butt is bad enough. From behind is doubly worse. Nine weeks for that alone is insufficient. With his rap sheet, Botha's career deserved crushing. Basically, he'll only miss the Tri-Nations series.
Irish referee Alan Lewis and his mates missed the offence and also Cowan's blatant obstruction on Botha, an act of cheating that deserved a temporary dismissal.
They were bad misses, although Botha's head butt was way off the ball. Apart from that though, I thought Lewis was brilliantly in tune with what was occurring. This was a fantastic test, allowed to flow instead of being interrupted by nitpicking penalties and other annoying stoppages. There is hope for rugby yet.
A total of 17 penalties and free kicks is below average, and probably about as good as it can get in a test. Maybe the All Blacks' dominance, and the lack of response by most of the Springboks, helped.
The scene has been set, and now the world champs must plot a quick comeback.
Long tours and test series may be a thing of the past, but the current Tri-Nations format does allow a mini-series to develop.
The charm and fascination of traditional test series involved the three Rs - rivalry, revenge and revamped selections.
Two tests in a row in the same country against the old enemy might not fully replace a good old four-test ding dong, but it's better than what we had before under the shorter format. What a shame, should that be lost when Argentina join the series.
The rampant All Blacks have put a serious hole in South Africa's confidence and made it clear, to themselves and the public, what they are capable of.
No wonder Graham Henry's smile - normally upside down as pointed out by Steve Hansen - almost reached the level as he wandered on to the scene of South Africa's destruction.
Another victory like that, and the All Blacks' World Cup prospects will not be the only thing on an upward curve.
The All Blacks were absolutely stunning in a thrilling game of extraordinary movement and speed. The common line is that South Africa will regroup. They will have got the jet lag out of their system, yes, but they also have a lot of ground to make up and the All Blacks will not rest either.
For my money, the All Blacks would be an even better side if they built a future around Piri Weepu's passing.
Richie McCaw's men have prised open serious cracks in an awesome Bok machine.
There should be questions in particular about the overall speed of the world champions.
Without Fourie du Preez punting away at halfback, they are not so assured of playing enough of the game in their opponent's half, which, in their case, carries the attendant advantage of nailing penalties and drop kicks.
An epic rematch is in store.
Weekend Winners:
The All Blacks. Superb.
What to Watch:
The second test against the Boks, who are without the disgraced Bakkies Botha - grow up pal.