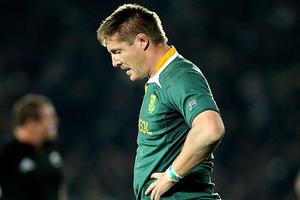 South African lock Bakkies Botha has been suspended for nine weeks for head-butting New Zealand halfback Jimmy Cowan in last night's Tri-Nations rugby test at Auckland.
It means Botha will miss the remainder of defending champion South Africa's Tri-Nations programme.
The punishment was handed down by Sanzar judicial officer Dennis Wheelahan in Auckland today after Botha was cited for striking with the head, following a tackle on Cowan in the opening minute of the test which the All Blacks went on to win 32-12.
The incident was missed by Irish referee Alan Lewis but Botha was later sinbinned for a professional foul and New Zealand scoring a try during his 10-minute absence.
Wheelahan said Botha admitted the charge, expressed remorse and had apologised to Cowan.
Wheelahan said he deemed the offence to be in the middle range of seriousness, but he also took into account Botha's record for previous offending.
He also said he took into account the fact that the proposed suspension would effectively rule Botha out of the remaining matches of the Tri-Nations series.
Botha has been suspended from all rugby up to and including September 4, the same date as the Springboks' final Tri-Nations test, against Australia at Bloemfontein.
The Bulls player missed this year's Super 14 playoffs after being suspended for a month on a reckless charge, and he received a two-week ban for the same offence against the British and Irish Lions last year.
He also missed three weeks of last year's Super 14 for striking and in 2003 he was suspended for eight weeks after spitting at, biting and eye-gouging Australian hooker Brendan Cannon.
- NZPA