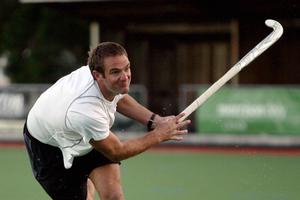 Black Sticks coach Shane McLeod is under no illusions as he embarks on the second of three major tournaments this year.
"The Champions Trophy is relentless," said McLeod. "There is nowhere to hide when you are playing a six-team tournament with all your opponents ranked well above you."
Still smarting from what he rates as a "sub-par" effort at the World Cup in New Delhi earlier this year, McLeod sees the Champions Trophy starting later this month in Monchengladbach as the chance to get the team back on an even keel before heading to October's Commonwealth Games.
"The players have worked really hard since the World Cup," said McLeod before heading to Europe where the team will warm up at the four-nation tournament in Nottingham. "There has been a lot of self-assessment and I expect a new lease of life. We have been looking closely at how we can do better."
He will, on paper at least, have a stronger team for the Champions Trophy with Brad and Hayden Shaw and Simon Child back after missing the World Cup where the Black Sticks were further handicapped when captain Phil Burrows was an early casualty and missed more games than he played.
McLeod said the Champions Trophy is unlike the qualifying tournaments - for the Olympic Games, World Cup and Champions Trophy - where the national team has performed well in recent years.
"You have to be consistent to do well at tournaments like this. That is something we have not been. Often we have started well but then fallen away when the pressure goes on."
While there is something of an experimental look to the team who will play at the four-nation tournament - four players will make their international debuts - the squad to play in Germany is the best McLeod will put out since the 2008 Beijing Olympics.
Shea McAleese, who will lead the team in Nottingham, is the only player in that 18-strong squad to have played more than 100 internationals.
By the time he gets to the Champions Trophy he will be joined by Blair Hopping, Dean Couzins, Ryan Archibald and Burrows who all have 200-plus caps.
Simon Child (who misses the Nottingham tournament as he recovers from a pelvic injury and is replaced by younger brother Marcus), Kyle Pontifex and Hayden Shaw have all played more than 100 and will be joined in that "club" by Brad Shaw and Steve Edwards before they return home.
"The Champions Trophy is the chance to gauge yourself against the very best," said McLeod who must name his 16-strong Commonwealth Games team before he returns.
"Being restricted to just 16 - down from the 18 we will have in Nottingham and Germany - helps us. Other countries probably have greater depth than us but in being restricted to 16 that difference will not be so obvious. I could write down 18 or 19 names now and then come up with a case of who we are going to leave out."
Winning a medal at the Commonwealth Games on their return to New Delhi remains the priority for McLeod and his team who started promisingly in Melbourne four years ago before falling away to finish fifth, beating India in the play-off in extra time.
BLACK STICKS (MEN)
AT FOUR NATIONS TOURNAMENT
(Nottingham)
* July 12: v Germany
* July 14: v Japan
* July 16: v Great Britain
* July 17: Play-offs
SQUAD
* Goalkeepers: Stephen Graham, Hamish McGregor
* Defenders: Joseph Bartholomew, David Green, Andy Hayward, Nick Haig, Richard Petherick, Brad Shaw, Blair Tarrant
* Midfielders: Steve Edwards, Blair Hilton, Shea McAleese (c), Arun Panchia
* Strikers: Joel Baker, Marcus Child, Hugo Inglis, Stephen Jenness, Nick Wilson
AT CHAMPIONS TROPHY
(Monchengladbach, Germany)
* July 31: v Australia
* August 1: v Germany
* August 3: v Netherlands
* August 5: v Spain
* August 7: v England
* August 8: Play-offs
SQUAD
* Kyle Pontifex, Simon Child, Blair Hopping, Dean Couzins, Ryan Archibald, Phil Burrows, Hayden Shaw. Replace Green, Bartholomew, Marcus Child, Baker, McGregor, Jenness and Petherick.