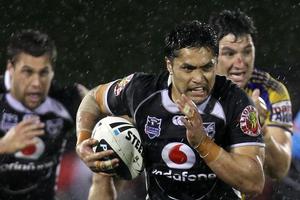 New Zealand Warriors coach Ivan Cleary is preparing for a kicking barrage when his in-form team take on National Rugby League (NRL) frontrunners Penrith on Sunday.
The Warriors are in their best form for some time, having won their third consecutive game with a 35-6 walloping of the Parramatta Eels last Sunday.
But they face a much tougher task to make it four in a row against the Panthers, who are second on the NRL ladder on points differential behind St George-Illawarra.
The Panthers beat St George on Monday, despite having players missing who were on State of Origin duty, and they also thrashed the Warriors 40-12 earlier this year.
Penrith scored a number of their points against the Warriors through kicks and Cleary said their mastery of the kicking game has been one of their strengths this season.
"They've probably got the best chase and the best compete in the league and it's worked for them, so I'm sure they'll be doing it again this week," he said.
"It's just part of the game that we're going to have to do well at. We will need to have plenty of our jerseys in the frame.
"I think that's probably the key, because if you can defend some of those kicks you're in a position to ask some questtions that maybe they haven't had a lot of this year."
Likely to be in the firing line of a number of bombs on the tryline is fullback Lance Hohaia, who is due to return from a groin injury which kept him away from the Eels match.
"We practice catching bombs and all sorts of kicks every week, but it's especially important against those guys. They got us a few times last time the played us and I think they score a lot of their points from kicks as well," he said.
"We will have to make sure we are putting some pressure on the kicker and us back three will have to be working cohesively together."
Despite the tough task of playing Penrith away, the Warriors will go into the game with some confidence after their consecutive victories, especially considering their victory over the Eels was probably their best performance of the season.
"That second half, I can't remember one like that for a long time for us," Cleary said.
"It's definitely given us a bit of confidence but being able to come out of a game feelling a little bit fresher, not only physically but mentally, which will help for a tough trip this week."
Hohaia was not expected to train fully until tomorrow but Cleary said he expected him to play.
- NZPA