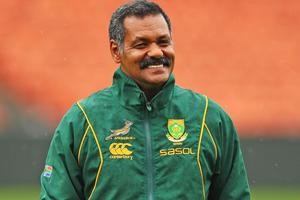 Get them while they are not too hot.
That's the best advice for the All Blacks, when they take on the world champion Springboks at the Eden Park construction site on Saturday night.
There is no such thing as a vulnerable Springbok team anymore. They've got world-class and often over-sized rugby players coming out of their ears, a tried and trusted game plan, the best lineout in rugby history, and an easy confidence that will help see them through tough times.
Even their madcap coach Peter de Villiers seems to be on to something. I used to think of him as a potential weak link but with so much experience in the 'Boks, he's turned into a jaunty, lippy conductor of a mighty juggernaut.
If it wasn't for the absence of their magnificent halfback Fourie du Preez, whose prodigious punting and excellent decision-making drives his team on, this column would happily suggest they are capable of wiping the All Blacks out on Saturday.
They still could.
The travel factor should also not be underestimated, and captain John Smit looked decidedly weary at his first press conference this week. Modern sports teams are experts at dealing with jet lag, but that trip from South Africa is a tough one.
Apart from that though ...
Just imagine being a coach who had to decide which locks to leave out, from Victor Matfield, Bakkies Botha, the rampant giant Andries Bekker and the versatile Danie Rossouw.
South Africa gave the rugby world the first No 8 superstar, the legendary Hennie Muller, a good half century ago. Now they have a conveyor belt of super athletes in the position.
Their scrum should be good enough, and prop Tendai Mtawarira is one of the most fearsome and athletic players you will ever see in the front row. Their goal kicking is positively frightening, they have speed to burn on the flanks, and the midfield defence is awesome although, from this distance, there is a touch of the eccentric in the way coach de Villiers has used Jean de Villiers on the wing.
Graham Henry's mob need to set a few cats among the pigeons, and quick. A few cracks must be opened in this mighty machine, otherwise it will only get mightier.
If coach de Villiers can be put under pressure, and coerced into making a few nutty decisions to match some of his words, there might be hope.
The great All Black warrior Sean Fitzpatrick suggested that a few South Africans he knew believed a Springbok loss over the next few weeks was desirable, to deal with any pre-World Cup complacency. They don't sound like any South Africans I know.
And the Springboks aren't just battling opponents any more.
Even little Heinrich Brussow, the outstanding "fetcher" as South Africans call their openside loose forwards, faces a battle to regain his spot with Francois Louw's large frame bursting on to the test scene with tremendous success over the past few weeks.
New Zealand was once the home of the finest loose forwards, but not any more. Brussow, Louw, Schalk Burger, Juan Smith, Ryan Kankowski, Pierre Spies ... and Rossouw can also be thrown into the mix. Staggering.
The internal battles for test places should sort out any complacency within the Springbok camp.
Fitzpatrick is right on one score though. These 'Boks are scary.
* Steve Hansen for the Highlanders? Please, no. The national selectors, and their mates at rugby HQ, are omnipresent enough. What a depressing situation, to find Hansen and fellow overlord Wayne Smith linked to Super 15 jobs at the Highlanders and Blues.
Smith had the decency to decline, although there remains a weird suggestion that he might act as a mentor to the Blues. Hansen though is clearly in line for the southern job. New Zealand rugby is crying out for more variety and individualism.
Surely the national game can give vibrant new coaching prospects a chance, rather than turning to the top brass again. Graham Henry and co shouldn't be controlling everything in the game. Next thing they'll be handling the World Cup accommodation bookings.
* On that note ... this column's advice to all those homeowners looking to make rental killing from the World Cup is go for it. We live in a free society, and a free market. If you can lighten the wallet of some very rich overseas guests, well good on you. Ignore those control freak rugby honchos. They run the game, not our lives.
* Hopefully Uruguay have been sent packing by Holland in their World Cup soccer semifinal this morning. They didn't deserve to continue after striker Luis Suarez went all volleyball-like to prevent Ghana's match-winning goal in the quarter-finals. Uruguay's arrogance after the act was galling.