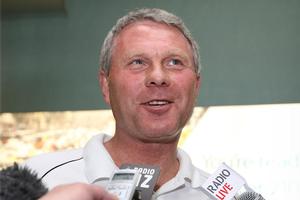 Ricki Herbert hopes to make an announcement on his soccer coaching future in coming days as he juggles his club commitments with a potential four-year extension with the All Whites.
Herbert is back at pre-season training with his Wellington Phoenix A-League side, where he has one year remaining on his contract.
He is currently in talks with New Zealand Football (NZF) about his All Whites contract after he guided the team to an unbeaten run through group play against Slovakia, Italy and Paraguay.
"I'm in negotiations with New Zealand Football, post-World Cup leading into 2014, and those discussions will carry on over the next week or so," Herbert told Radio New Zealand today.
"Fortunately, for the people who thought it couldn't be done, doing two (coaching) jobs, I think we put that one to bed. Both parties are extremely happy for it to continue, I guess it's just a time period now we're working through."
Herbert hasn't committed any further than one year with the Phoenix but said reports linking him with overseas clubs were just speculation. His first priority was nailing down his immediate future with the All Whites, potentially through to the qualifying phase for the next World Cup in 2014.
"Four years is a long period of time and you've got to be careful that it is the right step and you can bring the same to the table - and I'm extremely confident that I can.
"I just need to catch my breath a little bit. It's great to be back here and the boys are training and we'll see over the next few days what happens. In football you never know. Ideally, from my own personal point of view, the sooner the better (for a decision)."
He said it was inevitable that he and Phoenix players like Leo Bertos and Mark Paston would attract overseas attention after the side's World Cup performance.
Herbert returned to New Zealand last week after a short break with his family to digest what he labelled his most rewarding time in soccer.
The All Whites remain on target for the impressive feat of being the only unbeaten side at this year's tournament, should Germany win the final.
Incidentally, Herbert was tipping the Germans to go all the way after their stunning 4-0 quarterfinal win over Argentina, but admitted he had a vested interest in that outcome.
"I think I am ruling with my head not my heart. Wouldn't that be a nice situation (for the All Whites), to actually be the only team in 2010 not to have lost a game."
- NZPA