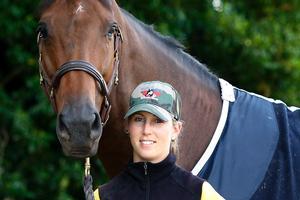 You might describe Katie McVean as born to ride.
"I think I was actually sat on a horse when I was a baby," she laughed. "Mum and dad were on the pro circuit when dad was younger so I suppose I was bred into riding."
The 24-year-old from Mystery Creek set her sights on a career in showjumping from an early age. She got her first pony at 4 and, given her genes, the die was probably cast.
And now, aboard the uncommonly gifted Dunstan Delphi, McVean is enjoying great success in Canada as the World Equestrian Games at Kentucky loom in late September.
Since arriving in Calgary as New Zealand's Showjumper of the Year, and having swept the domestic board, McVean and 8-year-old mare Delphi have won the Bow Valley Classic, with a C$11,130 ($15,170) cheque attached; finished fourth in a jump-off at her first five-star event, worth a tasty C$200,000 at the celebrated Spruce Meadows complex in Calgary; then beat Olympic champion Eric Lamaze finishing second, after another jump-off, in a C$100,000 World Cup grand prix at the same venue.
This weekend, there is the four-star Canada One event, the five-star North American event starts next Wednesday, and the Masters, featuring the biggest European names, is at Spruce Meadows in September.
Then it's off to Kentucky, assuming the combination is selected.
Rest assured, they will be.
Delphi, who stands an average 17 hands , was bred by McVean's father, three-time Olympian Jeff McVean. And when she talks of Delphi it's easy to hear the deep affection, even down a long-distance line from Calgary where she is based close to Spruce Meadows.
By no means is this purely a business arrangement, even though business could be very good once the McVeans decide it's time to sell her, most likely after the London Olympics in 2012.
"She's got nothing funny about her. She's pretty normal," McVean said. "She's the most intelligent horse I've probably ever had. I know her so well and she knows me."
Combinations can be made formidable through sheer hard work and discipline. Then there are partnerships with an added intuitive element.
There are stories of the double-Olympic eventing champion Mark Todd and his ability to get the best out of essentially average horses.
"Put him on a donkey and you'd still back him to win Badminton," former leading English jockey and novelist John Francome once said of Todd.
The McVeans have fielded serious offers for Delphi from overseas buyers with fat wallets.
How serious? Seven figures. But the family is determined Katie will have every chance to succeed with Delphi.
For now it's hard, selling off other equine assets to pay the bills. Her success in Canada has been a significant help in a tough financial game. A share in the horse was sold to a South Island syndicate to help fund the present trip.
"We've had so many phone calls about her," said McVean. "It's hard to keep turning it down, but it's been like our dream for our whole life andthis is a once-in-a-lifetime horse.
"And we love her so much. I'll most likely never get another one like her."
Which might be why John Cottle, a two-time Olympic representative and World Cup finalist and among the country's most respected horsemen, is blunt: "They're nuts if they sell her.
"These good horses are easy to sell but only because they're a rare beast. This could easily be the best horse [Katie] ever has. She's quite outstanding. Katie's a very talented kid but it doesn't matter how good a rider you are, you've got to have the horsepower. And this horse has it."
Eventing is the better-known equine discipline in New Zealand, through the deeds of Todd, Blyth Tait, Andrew Nicholson and co over the past 30 years, but McVean was never tempted - "I never really enjoyed doing dressage [one of the three eventing components]."
But she acknowledged show jumping has to earn its spurs in the public domain, as eventing did.
"It's taken us a little while but once we can get up and prove ourselves with the rest of the world, then maybe people will start to think of show jumpers as well. We have to prove ourselves."
Showjumpers aren't supposed to be in the top league at 8. Delphi would be the youngest horse in the recent grand prix events by a couple of years.
"Most horses don't jump the big grands prix until they're 9 or 10. She's jumping in her first year at 8, so it's pretty amazing."
McVean's faith in Delphi seems unshakeable."I think she can actually keep improving, which seems a big thing to say for how well she's doing now. She's very smart and hopefully she'll be amazing."