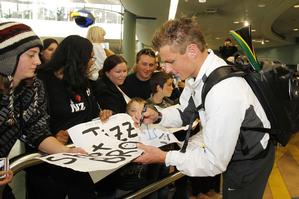 Hundreds of football fans turned out at Auckland International Airport today to give a rapturous welcome to the first of the All Whites to arrive home from the World Cup.
They waved banners and placards and many had waited more than an hour to see their heroes.
Assistant coach Brian Turner arrived with players Ivan Vicelich and Ben Sigmund to cheering and shouting from the arrivals lounge.
The All Whites were eliminated from the tournament in South Africa on Friday despite going through group play unbeaten, with draws against Paraguay, Slovakia and defending champions Italy - who also bowed out early.
Turner told journalists it was a great time for soccer in New Zealand.
"It's nice to know that people back home were 100 percent behind us. The players really appreciated it," he said.
"It's been a fantastic achievement going through a World Cup qualifying series, especially as we were undefeated against three of the better teams in the world, including the reigning world champions."
- NZPA