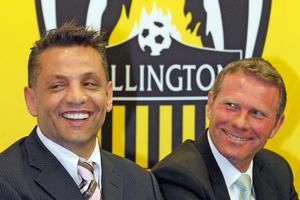 The All Whites qualifying for South Africa, then drawing two games against world-class teams and putting themselves on the verge of making the final 16 at the world's biggest sporting event?
Most would have scarcely believed.
Fortunately, there were plenty of us throughout New Zealand who knew this team could do it.
Already this team has made history and made the country proud. Apart from the fans of the teams we're playing, every other football follower worldwide has adopted us as their "second team".
Now we're one match from what would be possibly the greatest achievement by any New Zealand team at an international sporting event - getting into the knockout stage of the World Cup.
Paraguay stands between us and history. Drawing with Slovakia and Italy were phenomenal achievements but beating the South Americans will take something truly special.
Paraguay are in many respects the footballing antithesis of us - technically superb, flamboyant, flashy. But the All Whites have their own unique qualities - guts, determination, belief and spirit. They will back themselves to win. They will believe they can.
As New Zealanders we believe too.
At the Phoenix we've built a team on camaraderie and a desire to play for each other. As a coach Ricki has a unique ability to get the best out of his players.
He's done it with the Phoenix and now he's done it with the All Whites. I'm incredibly proud, in particular, of how the Phoenix players in the All Whites have performed.
Mark Paston is playing the best football of his career, Leo Bertos is at his playmaking best and Tony Lochhead is as solid as ever.
I'm looking for a big game from Leo and he could well be the X-factor for the All Whites in this one.
Hopefully Tim Brown and Ben Sigmund will also get their chance against Paraguay - these two Wellington Phoenix heroes deserve their shot on the world's biggest stage.
But the whole team will be up for this challenge and they'll be giving it their all.