Key match-ups could decide tomorrow morning's clash.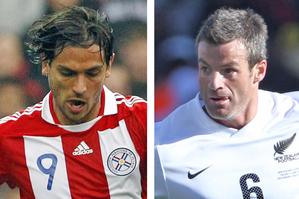 ROQUE SANTA CRUZ v RYAN NELSEN
No World Cup team has a more important player than Nelsen, although Argentina would go hurtling down the odds list if Lionel Messi was crocked.
The All Whites without Nelsen would be like Torvill and no Dean.
Nelsen was even awarded world player of the week by the massive Goal.com website for his stupendous performance against Italy.
He faces a tough task, especially with greenhorn international defenders Tommy Smith and Winston Reid alongside.
He will know all about Santa Cruz, his former teammate at Blackburn Rovers.
The striker, now at filthy rich Manchester City, and attending his third World Cup, has had knee and calf muscle injuries but remains a key to his team's chances. His experience alone - this will be his 10th finals match - is vital.
He is even more important, after the January shooting of Salvador Cabanas in a Mexican bar.
Santa Cruz made his name with German legends Bayern Munich, winning titles including the Champions League. Like New Zealand, Paraguay can utilise three players up front, with Santa Cruz joined by Nelson Haedo Valdez and Lucas Barrios, the Borusia Dortmund pair.
They aim to pull defenders out of position, which helped midfielders Enrique Vera and Cristian Riveros score against Slovakia.
Paraguay might go with a four-man midfield. Whatever the formation, Santa Cruz and Paraguay's potential for quick ball movement will provide New Zealand's Captain Marvel with his biggest World Cup test.
NZ COACH RICKI HERBERT
If he was South American, Herbert would have a snazzy title, like El Herbo.
Plain old Ricki is having anything but an ordinary year. His Wellington Phoenix shone in the A-League but nothing like his dazzling All Whites in South Africa.
The phrase "two World Cup points" doesn't do this campaign justice.
World soccer hasn't sat bolt upright, but there has been a serious straightening of the spine.
Herbert found a formula and enough players to make his system work.
There have been adjustments: Shane Smeltz started behind fellow strikers Chris Killen and Rory Fallon against Italy but this left the flanks exposed.
Once El Herbo made himself El Heardo above the vuvuzelas, Smeltz was returned to the front line. It worked well enough, just.
Herbert, 49, a baby of the great 1982 World Cup team, displayed remarkable coaching and man management touch from the moment he was given the futile job of saving the New Zealand Knights where he landed in the middle of a player revolt over money.
His unique place in New Zealand history is already assured, although he will desperately want to continue this World Cup run.
He could face tricky, vital tactical rearrangements depending on how the simultaneous Group F match between Italy and Slovakia is progressing. This could be another defining moment in his career.
The extraordinary background is his major rift with New Zealand Football chief executive Michael Glading.
Herbert, now all-powerful, has a muted public persona that masks an intransigence, which makes for interesting times. Stay tuned.
PARAGUAY COACH GERARDO MARTINO
He is Argentinian, but Martino doesn't come from the look-at-me emotions of the Maradona coaching school - although who does?
The 47-year-old Martino is known as "El Tata", which means dad, or pops.
Martino is low-key, an attacking midfielder who made his way up the coaching ranks by taking tough jobs and winning titles in his homeland and Paraguay.
His schooling may have had a touch of the Maradona to it - his guru is fellow Argentinian Marcelo Bielso, an innovator known as "Madman", and coach of Chile at this World Cup.
Martino took over Paraguay in 2007 and set about restoring their fortunes by finding new talent to complement the old, plus adding attacking zip to a side known for defence.
Paraguay has strong spirit, and defender Antolin Alcaraz has said: "The team's success is down to the coach."
In turn, Pops reckoned: "Some coaches strive to keep their jobs and others strive to make history, and I belong to the second group."
Making history is a way of keeping your job - Paraguay have enjoyed their best qualification campaign and are poised to go into the last 16.
In seven World Cup appearances, they have made the second round three times, although never the quarter-finals.
In a battle of wits with Ricki Herbert, Paraguay's advantage on the points table gives Martino the whip hand. Will he unleash his brilliant frontline against New Zealand, or play more conservatively, needing only a draw?
Mum's the word from dad for now - all will be revealed tomorrow morning.
SIMON ELLIOTT v CRISTIAN RIVEROS
Hard to believe now, but Elliott was far from certain to figure large in the World Cup finals.
The unfriendly friendly in Melbourne changed that, where Elliott picked out heads with pinpoint balls against the thuggish Ockers.
So Ricki Herbert had found a chief artilleryman in his aerial warfare, taking the pressure off wider players to deliver long, angled balls.
As mainly defensive players, Elliott and Riveros won't necessarily go head-to-head but comparisons are inevitable.
Elliott's forte is floating in front of the back three, calmly picking up the pieces and working out when to keep the ball or rifle it forward. The 36-year-old Elliott, in wonderful form, is the chief lieutenant to his mate Ryan Nelsen. With six goals in 60-plus internationals, he poses only a minor scoring threat.
Riveros is more likely in this department, with nine goals in about 50 games. He scored three in qualifying, and slammed in Paraguay's second goal against Slovakia.
MARK PASTON v JUSTO VILLAR
The battle of the goalkeepers will be crucial - a clutch of brilliant Paston saves against Italy was a reminder of that. Both men, in their early-30s, list Manchester United's former Danish star Peter Schmeichel as the player they looked up to.
But comparisons may end there. Paston is 1.95m tall, whereas at 1.8m, Viveros is the minimum for an international goalkeeper.
Viveros captains his country, an unlikely appointment for the mild-mannered Paston.
Paston kept Italy out with terrific saves, while Villar let the World Cup-holders in. Despite flying through the air with the greatest of ease, he allowed Daniele De Rossi to crash the ball home.
Their histories also differ. Villar came under the tutelage of leading Paraguay goalkeepers, whereas Paston told the Herald this week his initial development was stunted by a lack of specialist goalkeeping coaching in New Zealand, a situation that is being put right.
The All Whites will fancy piling the pressure on Villar via tower power. Paston almost dropped a clanger against Slovakia, but recovered brilliantly against Italy.