What are you doing to support the All Whites? Share your photos and videos here.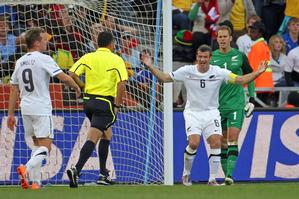 Just a wild stab here, but I'll wager the most frequently uttered words around the nation's water coolers yesterday were "All Whites".
Among the wonderful things about sport is that, while it may be essentially irrelevant to many lives, it has the power to send the spirits soaring.
Anyone who watched the All Whites' defiant final 20 minutes yesterday, repulsing wave upon wave of blue shirts, without a fist-sized lump in the throat is seriously lacking in a sporting soul.
And there was a timely lesson to be absorbed out of the 1-1 draw: beware over-stretching the superlatives.
Remember how the 1-1 draw with Slovakia last week inspired calls to place it among the top handful of New Zealand sports achievements?
What now? Where to go in assessing what happened yesterday?
What adjectives will do the trick in summing up the Italian job in the pantheon of New Zealand's great moments?
Let's not go there, save to say that in terms of sheer will, unbreakable spirit and refusal to bend the knee in the face of huge odds, you'll go a long way to find a better example anywhere.
Among the requirements for Ryan Nelsen and his men was keeping their heads as the world champions, playing like anything but, indulged in systematic, unappealing tactics around the tackle area.
They targeted Rory Fallon early on, figuring him a soft target and worked overtime to have him on a judicial precipice for much of the game.
There's a lesson for Fallon too: he must tailor his heading technique, keeping his elbows to himself, when opponents and the referee are on his case.
Nelsen's vigorous post-game complaints about the Guatemalan referee Carlos Butres were driven by emotion, but not far off the mark for all that.
He was often lamentable - not that he's alone in that at this tournament - but the All Whites' game is based in large part on physicality.
That is tolerated better in some parts of the world, say Europe, than others, such as South/Central America. With Paraguay round the corner, the All Whites will need to be smart again.
The numbers were all overwhelmingly in Italy's favour but attack is only half the game. Where the All Whites' nerve stood the challenge, by contrast the favourites' was about as unyielding as a blancmange.
Italy's millionaires ran out of ideas the longer the game went. Once again, at a time when victory seemed the surest of certainties, the four-time champions blew it. They do have a history of this.
Sure, the All Whites needed some luck. That was to be expected.
Goalscorer Shane Smeltz was offside, but equally on many other days Italy's penalty would not have been awarded.
Before the tournament, it seemed that Glenn Moss had been lined up to keep in the third group game, once his suspension was completed. Now? No fear. Mark Paston, the penalty-stopping hero against Bahrain, was world class. He had some wonky moments against Slovakia. This time he was decisive, sure-handed and produced a string of outstanding saves.
As the second half wore on the All Whites grew an extra leg as they realised the Italians had little attacking thrust up front, and sensed they were getting twitchy.
Long-range shooting is one thing; but Italy were blunt inside the penalty area.
They had no Paolo Rossi this time round, no one with an assassin's eye for the goal.
And so this wonderful celebration rolls on. World No 5 vs No 78. Who'd have thought. Funny old game, but the Italians aren't laughing.
These All Whites have roused this country like few before them. Paraguay and a barely-believable step into the second round beckons.
Right now, what seemed impossible shapes as distinctly within the scope of this resolute group of men.