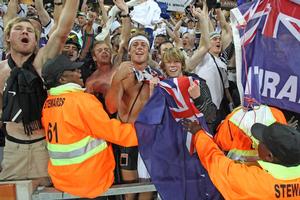 Italy are cheats and the referee had a hidden agenda, said bare-chested All Whites fans who watched New Zealand's 1-1 soccer World Cup game against Italy in Nelspruit this morning.
The All Whites went ahead after seven minutes of their Group F clash when striker Shane Smeltz toed home an inswinging Grant Elliott free kick.
But Vincenzo Iaquinta equalised with a contentious penalty in the 29th minute after Guatemalan referee Carlos Batres referee adjudged All Whites' defender Tommy Smith to have pulled Italy's Daniele de Rossi back by holding onto his shirt.
"I don't know what nationality the ref was, but I'm pretty sure he had a hidden agenda," said Hone Patrick.
"Yes, we came across as aggressive to start off but that is our style, we play aggressive. I suspect some underhand dealings."
Another White Noise supporter Steven Carlin, who ripped his shirt off in the final minutes of the game, believes Batres' rulings were weighted in favour of the Italians.
"They go down so easy. Even the Italian fans here tonight said they knew their team was going down pretty easy and so they were getting all the decisions. It didn't make it easy for New Zealand."
All Whites' fan Rory Kerrisk was shocked when Batres blew the whistle for an Italian penalty.
"Any other team would not have got a penalty but somehow Italy always does. Every ref knows they dive and they will get away with it," Kerrisk said.
Kerrisk's brother Liam agreed.
"It's hard enough playing the world champs but having to play them when they have 12 men - including the ref who is having an absolute blinder for them - is even harder. This victory means so much to us because we have beaten them with 11 men and they have 12."
The debate continued in cyberspace, with hundreds of messages pouring into the All Whites Facebook page and Twitter.
"A draw against a world cup holder is epic. Fifa just needs to find some decent referees! Stand strong! Take em down and show them up!," All Whites supporter Darren Taylor said on Facebook.
Jo Clements also alluded to the Italian acting. "Yeehaa.....well done....you did on your own merits not by acting out dives and crying for free kicks and penalties," she said.
Writing on Twitter, devanmcharg congratulated the All Whites and criticised the Italians in less than her 140 prescribed character limit.
"Inspiring match. Italians, less theatrical diving, ya weenies. U r better than that."
KAGE007 pointed out that the All Whites could have won a historical victory "if it wasn't for the #ITA diving".
All Whites captain Ryan Nelsen called the penalty "ridiculous", and was scathing of the ref.
"Obviously the referee didn't help. I think he got stars in his eyes. If he is the best Fifa can offer I would hate to see the worst," said Nelsen.
"It was very sad to see, he ruined a game. Every ball that we put forward, he blew the whistle before it was contact. It was incredible.
"But it shows you that is what [Italy] had to do to get a goal which is a bit of a shame."
- NZPA, NZ HERALD STAFF