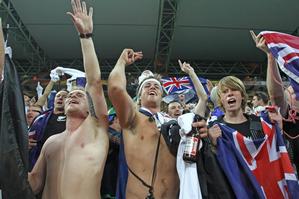 At half time at the Mbombela Stadium, something strange was happening.
All Whites players furiously remonstrated with the referee and his assistants. Angry fans booed while others looked downcast.
New Zealand was on level terms at 1-1 with world champions Italy, and we were disappointed. The disappointment is a measure of how far we've come.
The minnows of the game stunned the world when, after seven minutes, Shane Smeltz popped up to score.
The score read New Zealand 1 Italy 0, and not many could resist the photo opportunity.
Before the match, the cynics had suggested New Zealand was getting way above its station in daring to dream.
But those in the stadium would not allow cynicism to prevent them playing their part.
The All Whites fans drowned out the vuvuzelas horns with their cheers as the players came out.
Those fans again made themselves heard as they sang the National Anthem. Some players sang while captain Ryan Nelsen stood with head bowed and hand on heart.
In football terms, Italy were the better side. They dominated possession and carved out several chances; at times the All Whites survived by the skin of their teeth.
But it was an outrageous dive to win Italy a penalty, the Azzurri proving once again they are masters of that dark art of football.
At the break a furious Simon Elliott remonstrated with the referee and his assistants. Substitute Ben Sigmund went straight to the source of the All Whites frustration and told Italian Daniele De Rossi he had dived.
It was hard not to share the frustration and feel the injustice of it all.
The All Whites supporters didn't join in the Mexican wave as it swept that stadium. They were no longer in South Africa for a fun day out. They were here to see their team get a result.
And get a result they did.
And as it became apparent what had been achieved, elation took hold.
As put by Prime Minister John Key, who had flown in to see the game: "Sensational result and they played with courage for the whole 90 minutes. Fantastic."