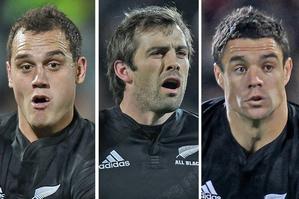 The All Blacks' search for an entire performance in Hamilton on Saturday has been complicated by a rising injury toll in their rousing 42-9 farewell to Carisbrook.
If they could weld their second half at the 'Brook to their sizzling initial 40 minutes against Ireland at New Plymouth, they would create mischief this weekend in their repeat duel with Wales.
Coach Graham Henry's critique and halftime demands drew a great response as his side put on an unanswered 27-point haul in conditions which were as perfect as night rugby allows in the deep south.
"I thought the two leaders were outstanding, Richie [McCaw] and Daniel [Carter]," he said.
"We were pleased with the second-half performance. It took us a while to get there but that is what international rugby is like, I guess."
This week's initial steps in the search for a more complete display hit some road bumps as the medical staff delivered reports on the squad's health with most concern about the backline attrition.
Fullback Israel Dagg, centre Conrad Smith and five-eighths Daniel Carter were all damaged during the victory at Carisbrook, while Anthony Boric cracked a cheekbone as the injury curse continued to bite into the nation's locking resources. There are further problems with potential replacements, fullback Mils Muliaina and lock Tom Donnelly, both with limited matchplay this season as they return from leg complaints.
Dagg was concussed on Saturday when he was dumped into the turf. He left the field at halftime and was ill subsequently, a number of times, while Boric, when he collided with teammate Keven Mealamu, cut his face and cracked his cheekbone.
Henry indicated neither would be chosen for the second test in Hamilton. Dagg had been distressed for a while and needed time out while it was not worth risking Boric ahead of the Tri-Nations series.
Carter was subbed late in his masterful 27-point collection in the final All Black test at Carisbrook when he felt his calf muscle tighten and was replaced by Aaron Cruden.
Henry later signalled that Smith was struggling with an eye injury while there were other theories that he, too, was feeling unwell because of another head knock. Neither he nor Carter are certain to backup for the second test against Wales.
Attention will switch to Chiefs fullback Muliaina, who has played very little in recent months because of hand and calf injuries but may be asked to start on his home ground. If not, Cory Jane could switch to fullback, with Joe Rokocoko and Zac Guildford on the wings.
Richard Kahui returned to test rugby on the wing for the second half at Carisbrook, scored a fine try and looked far more settled than he had in the latter stages of the Super 14 series. He could slot in anywhere through the midfield this weekend.
After two games from the bench, Sam Whitelock should be asked to start at lock in tandem with the vastly experienced Brad Thorn while Donnelly, after some meagre club play, could suit up on the bench.
Wales also suffered injury problems with five-eighths Stephen Jones and centre Andrew Bishop both breaking bones in their hands.
Henry felt his side lost the kicking duel in the first half with Wales, who were also very strong on defence. That tactic worked for them until the All Blacks altered their plans, found some territory first before attacking and used their superb defence.
In the second spell they reintroduced loosehead prop Tony Woodcock to test rugby in place of Ben Franks.
There was an immediate steadying of the All Black scrum while Woodcock also rampaged around the field like a man annoyed he had been deprived of top rugby for some time.