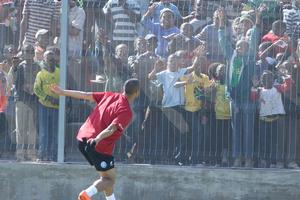 South Africa might be in mourning after Bafana Bafana were essentially knocked out of the World Cup by Uruguay last week, but there's a small pocket excited about what a curiously- named side called the All Whites might achieve.
The people of Daveyton have adopted New Zealand as their second team. Many didn't know where the country was, let alone the names of the players. They still don't know everything, but they know a lot more than they did.
Daveyton is a township of 1.5 million people north of Johannesburg. Life can be a struggle for many, but there's a pride in South Africa - and a pride in New Zealand.
"I will support the All Whites now," says Justice, who journeys to Johannesburg each day to work in a cafe. "They did well the other night and I hope they beat Italy." A week before, Justice didn't know what group New Zealand were in.
The reality is most South Africans are only interested in Brazil, Portugal, England and Argentina - along with Bafana Bafana, of course.
Banners and billboards of Kaka, Cristiano Ronaldo and Lionel Messi are littered throughout Johannesburg.
Winston Reid has become an instant hero in New Zealand because of his dramatic goal against Slovakia, but he is also the most popular All White in South Africa because of his darker skin colour.
Rory Fallon is another favourite and he has a common touch people appreciate. After an open training session at Daveyton, Reid and Fallon both threw training gear into the crowds, leading to instant popularity.
Crowds on the streets of Daveyton respond to the All Whites as the team bus travels along in convoy. They wave, they cheer, they take photos on mobile phones. Before the draw with Slovakia there was a curiosity factor - now there is genuine recognition.
The All Whites have also connected with locals. After one training session they stopped off at a local school unannounced to mingle with children.
They're also more than happy to have photos taken and sign autographs. There's a humility about the All Whites that you don't often get at the World Cup. They know how to connect with people and egos don't get in the way.
Thendo is someone with more knowledge of the New Zealand football team than most. The personal trainer has heard of Ryan Nelsen, Tommy Smith, Fallon and Chris Killen because they play in England and, now, Reid after his goal.
"A lot of South Africans are behind them in that group because we don't like Italy. I think they will be the dark horses of the World Cup.
"We don't take [the name All Whites] as anything derogatory because of the All Blacks and Black Caps. Their uniform is all white."