Conrad Smith is a must-pick for the All Blacks, writes Gregor Paul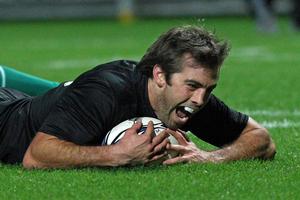 For those footballers cursed with the modern bug of instant gratification, Conrad Smith is the potential antidote.
Every young buck who has fled New Zealand in a fit of pique might like to consider the rewards that have come to the country's most patient man.
Smith now resides in the All Black No 13 jersey - he's a must-pick; an integral part of Graham Henry's vision. Smith's is a measured portfolio. He brings to the table a bit of everything and despite not being in possession of any one outstanding skill, his total offering is richly compelling.
The package has become lethal - his cool head, his brilliant reading of the game and calm under pressure, his distribution, his tackling and that invaluable ability to bring the best from others.
It's made Smith not only indispensable, but the sort of player whose legacy will endure; a player the All Blacks will find distressingly difficult to replace.
If he'd been afflicted with a fragile ego or an impetuous nature, none of the trappings he currently enjoys would have come his way. First capped in 2004 as a 23-year-old, it took Smith until 2008 to become an All Black regular.
So much conspired against Smith in those early years. Tana Umaga, despite being capable at 12, was always at his best at centre and when partnered with Aaron Mauger. After the skipper retired at the end of 2005, Smith couldn't claim the throne as he broke his leg in early 2006.
An even harsher blow was to follow. Smith fought his way back to full fitness and, having heard throughout 2007 that the selectors rated him and Luke McAlister as their preferred midfield combination, Smith saw Mils Muliaina play centre in the World Cup quarter-final.
There was ample justification for Smith to throw his toys and storm off into the arms of a European sugar daddy whose chequebook would mend the hurt. The only thought he had was to extend his contract in New Zealand and, as he looks around now and sees so many players in a similar position to the one he occupied, he feels the need to say something.
"I think this is a real issue in New Zealand. I think the players, the public and the media expect guys to be playing their best rugby when they are too young.
"I remember going to my first World Cup and a lot of people wanted me to be the centre. I remember saying at the time that I wanted to be the centre but that I felt I was a couple of years off my best football.
"I don't think you hear that from enough players, so when they get left out when they are young, they get pretty despondent about it and they shoot off and play their best footie when they are 27, 28 in another country and sometimes even for another country and can't come back.
"There are dozens of examples of that. I don't know who is to blame. Maybe it's no one's fault. Hopefully more guys will start to realise they are pretty young. For me, I knew I was a few years before I would be at my best and I wanted to be here, playing for the All Blacks when I was at my best."
Smith is the poster boy for loyalty and hard work - old-fashioned values may not be as prevalent as they once were, but they're certainly not extinct.
He is also one of the few players who doesn't see the All Blacks as a mere phase in his career. He's not passing through, enjoying the ride before the next challenge takes him somewhere new.
Smith knew in 2007 that he wanted to give his best years to the All Blacks - and the security of that decision allowed him to to assess his own talents honestly.
"I felt there was much for me to improve and work on. They weren't impossible things but they were going to take time. I just thought that in a couple of years if I got that right then I'd be as good a footballer as I can be.
"I wanted to hang around and put up with the pain of not always starting for the All Blacks."
His self-assessment in 2007 has proven accurate. He has matured into, almost, an error-free player. Indecision is not for him. His speed of thought carries him past opponents and if he's not the player he always thought he could be, he must be close.
"I am more comfortable as a rugby player now. It is a tough life. They talk about it being a case of living the dream but it is hard when you are a young fella and have to deal with the pressures of the job and the expectations you put on yourself. I'm more relaxed about it now.
"Experience is massive. You don't get stressed out when things aren't going your way. You know it's a simple game and you have to do your best when you get the chance. There is a lot you can't control and you have to take that out of your mind."
Such is his standing, he's not only become a critical player - he has become one of the vital voices. Leadership comes naturally to a player just as comfortable in the pressured confines of the law fraternity.
Articulate, measured and respectful of All Black history and culture, Smith knows it would be a dereliction of duty should he not do his best to guide the next generation.
"I have been around for so long, it would be wrong not to take that sort of responsibility. Having been here as a young player, I know it's massive when a guy who has been around for a long time comes to talk to you and share a bit of advice.
"That's the thing you value more than anything so it would be mean-hearted of me not to step up to that responsibility."
For all that, Smith is worthy of attention now in terms of what can be achieved by planning beyond the next five minutes - his story will become all the more inspiring should he be part of a side that succeeds next year.
As much as everyone tries to downplay the World Cup, victory will create overnight heroes; inscribe in folklore those who played their part.
He can urge young players now to hang around and take their time as proof of what awaits. If he were to preach the value of patience while clutching a World Cup winner's medal, even those in the biggest hurry would be inclined to take stock.