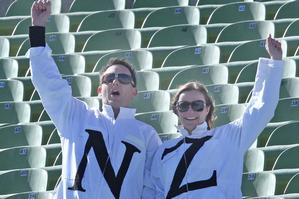 The All Whites seem to have won over a few new fans around the world after their historic effort overnight, with messages of support pouring into nzherald.co.nz.
New Zealand drew 1-1 with Slovakia on a last-minute header from Winston Reid, giving the team its first-ever point at a World Cup.
Below is a selection of messages sent in from abroad:
Florian La Petite - French Polynesia:
"I jumped up of joy when Winston Reid scored. What a team. The French commentator usually very blasé and arrogant said: 'What a breath of freshness and humility were those All Whites we discover with you in this World Cup.' So All the Best guyz. I'm not a supporter of the French divas team but really my heart beats for NZ/Aotearoa."
Lisa - United Kingdom:
"Had the game on in the corner of my screen at work in London. Wasn't entirely discreet as I kept leaping out of my seat! May be a draw but felt like a win! Keep up the amazing work guys, bring on Italy you can beat them!"
Nicolas, French Australian in United Arab Emirates:
"Can I get your nationality and become a kiwi? Please!"
Jenny Morgan - Greece:
"Well played All Whites. You made us proud!"
Antony Crayk - United Kingdom:
"Well done lads. You silenced everyone and got the praise of the English commentators. Work gave me the afternoon off to watch the game and I am so proud to be Kiwi!"
Roberto - Uruguay:
"Way to go! I was rooting so hard for you guys! I jumped off the couch to celebrate! Congratulations from a Uruguayan fan."
Sara - Barbados:
"Well done today boys against Slovakia. Excellent game with an even better result! You have done all Kiwis around the world proud. Good luck with the rest of your games."
Chris - Germany:
"Congratulations from Germany. Me and my wife were on holiday in New Zealand this February and immediately fell in love with your beautiful country.
"Tried to buy an All Whites shirt in Auckland but they were all sold out! Seems that they're not only rugby supporters in NZ. So I'm supporting the team wearing my Germany-Shirt. I hope you don't mind. Good luck against Italy and Paraguay."
Daniel - Brazil:
"Go All Whites, hope you guys get as far as you can, always doing your best. Cheers from a Brazilian who loved and loves New Zealand still."
Adam - Krakow, Poland:
"So I'll speed up filling up immigration papers! I knew it was good decision, well done All Whites! I'm happy as if I was already part of the nation."
Vivienne - Riyadh, Kingdom of Saudi Arabia:
"Well done boys. I am a rugby fan first and foremost, but of course whenever NZ are playing internationally we are behind them /you all the way. Good luck for an enjoyable and successful world cup."
Mark - Dundee, Scotland:
"Smashing, well done to the All Whites."
Richard - Switzerland:
"I've just seen the game live on TV in Zurich (Switzerland). Congratulations All whites! A game is going 90 minutes! Until the last second, never give up. Go for it. Now beat the Italians on Sunday!"
Peter Hall - Pennsylvania, USA:
"Well done from a Kiwi in Pennsylvania. We are all meeting in New York this Sunday morning to see you serve it up to Italy!"
Lida - Croatia:
"All the best to All Whites from Croatia!"
Karen Hawxhurst - United States:
"So, you boys give it all you have got, stand tall and proud, and remember Kiwis all around the world are rooting for you all."
Michael - Germany:
"You guys dominated the first 14 minutes then drifted into a solid work mode for 60 minutes before bringing a warrior-style burst of give-it-all for the last 8.4 minutes."
Ian - London, England:
"F-a-n-t-a-s-t-i-c! Wonderful result for the better side. Keep the spirits high."
- NZ HERALD STAFF