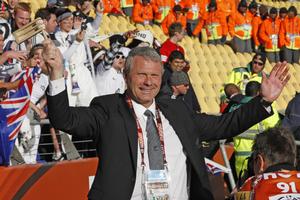 John Adshead famously told his players they would have woken up the nation when they scored five goals in the first half against Saudi Arabia that kept their World Cup qualifying hopes alive.
It's nothing to the impact Ricki Herbert's side would have caused with their incredible 1-1 draw with Slovakia early this morning (NZT).
Winston Reid's 93rd minute header sealed the All Whites' first point at a World Cup. It did much more than that. It delivered credibility to the sport in New Zealand and, hopefully, abroad.
Make no mistake; this is a remarkable achievement. It's not something many would have expected when they slumped to an embarrassing 4-2 defeat to Vanuatu in 2004.
But coach Ricki Herbert has turned things around. Maybe he's a lucky coach but what he has achieved with both club and country over the past 12 months surely can't just be luck. The All Whites are now a side that can not just compete but get results on the world stage.
They deserved a point against Slovakia. They played well in patches, especially at the start and end of the game, and looked reasonably comfortable on defence. There were a few heart palpitations but that's always going to be the case with New Zealand at the highest level.
Herbert cut a composed figure afterwards but it was clear he was beaming underneath his New Zealand suit and tie. He created history when he played in Spain 28 years ago but he carved out an even greater slice of history for himself with this result.
"I'm very, very proud," he said. "We've got a really proud dressing room in there. We came across with intentions to make a difference and we've certainly done that. I thought we played really well tonight against a highly ranked team.
"It was an extremely strong statement that we're competitive and the brand of football we're playing now is more conducive to high level results and performances.
"This is a special night for me, I'm a Kiwi boy and I couldn't be any prouder to think that the sport I love is going to be leading the newspapers and TV for a few days to come.
"I think this team has laid a platform for four or five years now. It's created history everywhere we've gone and it's a very proud group. I think the nation will be in reasonably good spirits."
They ought to be a little happier than that. The small contingent of travelling fans stayed pitchside for up to 30 minutes after the game dancing with delight and it's not hard to imagine similar scenes playing out in pubs and living rooms throughout the country.
It's hard not to dream about passage to the second round. It's unlikely, highly unlikely with Italy and Paraguay still to play, but few people thought the All Whites would qualify for the World Cup and even fewer outside New Zealand thought they would make any impression in South Africa.
They've done that and, regardless of what happens against Italy, they are still likely to have a chance of progressing in their final game against Paraguay.
If they could do that they would surpass anything that happened this morning but, for now, Herbert rightly rated the 1-1 draw as the All Whites' best result ever.
"It would have to be," he said. "We've never picked up a point at a World Cup, albeit we've only been twice. We beat Serbia, although people want to tag that as a friendly match, but we've thrown some really good punches today and got what I think was an extremely well-deserved result.
"We probably had it all today. We were really focused going into this one. I've said that I thought the opening game was our best chance to get something.
"We would have been disappointed with a loss but, credit to the players, we kept coming. Smeltzy probably had a better [chance] and could have scored but Winston's popped up and got us back into it."
And the nation roared with delight as he did.