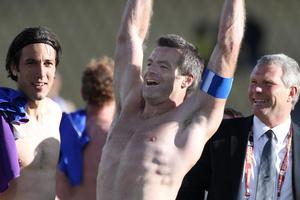 Captain fantastic Ryan Nelsen said the All Whites have proved the doubters wrong, and the side has everything to play for in their remaining group matches after the historic World Cup draw with Slovakia.
Nelsen revealed that a planned goal celebration went out the window as the squad and officials hurled themselves into what could have been mistaken for a victory melee, after the 1-all draw with Slovakia at Rustenburg.
That crazy end to the game summed up the high feeling following New Zealand's first ever World Cup finals point, in its fourth game.
Nelsen said: "People look at New Zealand as if they are making up the numbers which really annoys everybody.
"We're a pretty good team, to get a result here against a team that progressed by topping their qualifying group. We kind of want to make an imprint at this World Cup.
"Hopefully what it has done is give us something to play for - a win against Paraguay or Italy and who knows, we could go through.
"It's all set up and very exciting. We wanted something to play for.
"I said to the boys before the game that it is 90 minutes long, but all it takes is a few seconds to etch your name in history. Those few seconds happened for us in the 93rd minute."
Nelsen admitted he thought New Zealand's chances of snatching a draw were gone when a late Shane Smeltz header went wide.
Winston Reid's wonder goal was thanks to a ploy to throw caution to the wind.
Reid had been partially at fault for Slovakia's goal, allowing Robert Vittak - who may have been offside - to ghost in behind him.
"It is fantastic for Winston and for everyone back in New Zealand," said Nelsen.
"All White supporters have had a pretty rough ride so I really hope they can celebrate days and nights like this.
"Winston never got his head down for a young man and he believed he could do something - that's what you have to do in international sport at this level.
"He also produced one fantastic block...in the last five minutes we pushed him forward and reorganised at the back. You have to chance your arm and he's a big boy with big springs so we sent him up there.
"A sunny day, windy, the high altitude - to create two chances like that in the last two minutes...you can only do that by chancing your arm."
Veteran All White Ivan Vicelich described the result as "huge in sporting history for New Zealand".
"Everyone worked for each other and it was great to be involved," he said.
"Right through the whole game we had the odd chance here and there - all credit to the guys who did what they normally did and fought to the end.
"The team is improving every month, it has been a great 12 months, and things are looking up for New Zealand football."
He said the All Whites needed to re-group and get their energy levels back.
"It was a tremendous celebration at the end - one of those great moments where everyone from the bench and the field is falling over. There was a small net there - it could have been dangerous."
Meanwhile, star Slovakian defender Martin Skrtel said his side had been prepared for the All Whites.
"We knew them, we watched videos of them against Serbia, Slovenia and Australia," he said.
"We expected they would play the long ball and physical football so they played like this.
"I think we played the better technical football, but then the goal, disappointing."