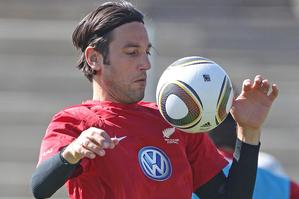 The eyes of the world are on South Africa and the All Whites are about to play arguably the biggest game in New Zealand football's history but Ryan Nelsen has no concerns about his teammates succumbing to the pressure.
The All Whites skipper actually thinks the World Cup playoff against Bahrain in Wellington was more pressurised than their World Cup opener against Slovakia tonight (11.30pm NZT).
"That Bahrain game in Wellington is the most pressure these guys will be under, more pressure than these World Cup games," he said. "They (the players) handled it tremendously and weren't afraid of it. That gave us real confidence, I think. When you play Mexico, in front of 90,000, everything gets easier.
"I think this team's a wee bit different from most New Zealand teams. We've got a lot of experience now among the squad. Things don't kind of daunt you as much as they used to. It really helps.
"We're not that wet behind the ears. The guys are confident."
It's not without foundation. New Zealand take some decent form into the match against Slovakia after good showings against Australia, Serbia and Slovenia.
They have created chances, looked competitive when they have their best side on the park and there's a certain resilience about them that suggests they can be competitive.
Their build-up campaign has increased expectations both in New Zealand and within the squad that they can actually get a result. Whether those expectations are realistic or not will be revealed tonight. Few outside the country believe New Zealand will be nothing more than cannon fodder in South Africa.
"I think so and, great, quite rightly," coach Ricki Herbert said in relation to increased expectations in New Zealand. "We've beaten Serbia, I thought we were very competitive against Slovenia and probably wouldn't have lost against Chile [if we had kept our best side on the park for the entire match].
"It's not that this side doesn't warrant that. I think it's good. It sets the bar where we want to set it. If we lose three games we lose them, but I think we'll be more than competitive."
The match against Slovakia presents New Zealand's best chance of a result with Italy and Paraguay still to come. Italy are defending world champions and know how to win football matches while New Zealand sides have never matched up well against skilful and tricky South Americans.
Slovakia are expected to play a similar style to both Serbia and Slovenia, which New Zealand handled well, and they are under considerable pressure to win their first match if they hope to advance to the second round.
The All Whites held their final training session at the Royal Bafokeng Stadium in Rustenburg yesterday, when they confirmed their starting side.
As expected, Ivan Vicelich will start in central midfield alongside Simon Elliott - Jeremy Christie misses out - while Winston Reid and Tommy Smith will slot in alongside Nelsen at the back.
It means the All Whites will lack pace in the middle of the park but Vicelich offers greater experience and composure on the ball than Christie. New Zealand won't enjoy as much possession as Slovakia so need to treasure it when they have it.
It all comes down to pressure. If Nelsen is anything to go by, the All Whites will cope.
Herbert is renowned for doing his homework and thinks he has Slovakia worked out. Nelsen, though, prefers not to dwell too much on the opposition.
"Not a lot, to tell you the truth," he said when asked about Slovakia's strikers. "It's probably just as well. You can kind of start thinking too much. In the end you've just got to play the game. If we take care of what we do well, it should be good."
It would be better than good if it turned out that way.
All Whites
Mark Paston, Tony Lochhead, Winston Reid, Ivan Viceleich, Ryan Nelsen (captain), Simon Elliott, Shane Smeltz, Chris Killen, Leo Bertos, Rory Fallon, Tommy Smith.