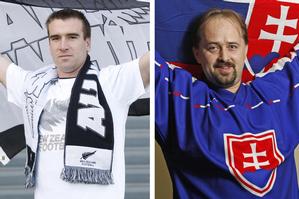 MARTIN RAJOK, SLOVAKIA
Martin Rajok may have lived in Auckland for more than a decade, but his heart is still in Slovakia.
The 37-year-old IT manager will be flying his country's flag tonight, as Slovakia play their first World Cup match.
Mr Rajok has organised an event at the Cock and Bull in Newmarket for Slovaks to cheer their team on. He said that although there are only about 50 Slovaks living in Auckland, numbers will be bolstered by local Czechs.
"Slovakia and the Czech Republic have a rivalry similar to Australia and New Zealand, but as soon as one country qualifies, both will support it."
Soccer, alongside ice hockey, is Slovakia's national game and popular during the summer.
"Everyone in Slovakia starts playing football when they are really young and then later decide if they want to play football or ice hockey," he said.
Mr Rajok hopes the quality European-league players will lead Slovakia to victory over the All Whites. He rates Slovakia's chances against New Zealand, but says his team will have a tougher time against Paraguay and Italy.
Fifa ranks Slovakia 34th in the world, 40 places above New Zealand.
Mr Rajok admitted he does have split loyalties and gets behind some of New Zealand's sports teams.
"But with football, I'll always support Slovakia."
JASON BEESTON, NEW ZEALAND
All Whites worshipper Jason Beeston is kicking himself for not being in South Africa to cheer his team on against Slovakia tonight.
But the West Aucklander says he will compensate by making noise back in New Zealand, and will head with mates to his local pub to watch the match.
"I wasn't around for the 1982 cup, so I'm keen to see what New Zealand can do on the world stage."
Mr Beeston has been playing since he was 3 and following football avidly since the late 1990s. He loves the game so much he devotes his days developing the skills of young players with United Soccer in Albany.
He never misses an All Whites game, and was in the Wellington crowd last year when they beat Bahrain and qualified for the cup.
"I've seen a few games in England and the atmosphere [in Wellington] was brilliant and comparable to anything overseas."
Mr Beeston said it was only the lack of money that held him back from heading to South Africa to watch the All Whites in person.
To make up for it, he has kept his eyes glued to the television since the opening ceremony on Saturday morning, eagerly awaiting the moment when New Zealand take to the pitch.
"Hopefully we'll win, but realistically I'd be happy with a draw as well."
And even if the All Whites are knocked in the group stage, he says he will keep watching the sport he loves, regardless of who is playing.
KNOW YOUR RIVAL: SLOVAKIA
1. Never call a Slovak a Czech: Slovakia broke free when Czechoslovakia dissolved in 1993.
2. It's cold : Slovakia has an average lowland temperature of 10C. It's even chillier higher up.
3. Slovaks are thrillseekers: One invented the first commercially produced parachute, in 1913.
4. But they're not beachgoers: Slovakia is landlocked.
5. One was a painter: Andy Warhol was of Slovakian descent.
6. They love a wedding: 24 is the average marrying age for women, the youngest in the EU.
7. And probably a drink: A pint of beer costs about $2.
8. They're new: this is the first time Slovakia have qualified for the World Cup.
9. God will probably be on their side: Three-quarters of Slovaks identify as being religious.
10. They speak another language: "Goooly" is Slovak for "Gooooaaal!"