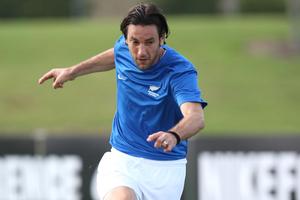 Ivan Vicelich is expected to start in central midfield in place of the injured Tim Brown in the All Whites' World Cup opener against Slovakia.
Jeremy Christie seemed to have the inside running to partner Simon Elliott in the middle of the park but yesterday in training Vicelich was handed the blue bib of the likely first team to play Slovakia.
He played the entire training game in the first team and Herbert signalled he was likely to go with the experienced campaigner on Tuesday.
"I'm still not 100 per cent sure in that area, but it's pretty close," Herbert said.
"It's probably not going to be far away. He's a strong option. Strong option."
Vicelich might have thought his dreams of playing at a World Cup had gone with the emergence of talented young centre back Tommy Smith, who has been excellent since making his debut against Mexico in March.
He has kept Vicelich out of the starting side since then and is a certainty to start against Slovakia in a three-man defence alongside Ryan Nelsen and Winston Reid.
But Brown's injury has opened up a new avenue for Vicelich, who was named Oceania Player of the Year earlier in the week. The role is a familiar one for the 33-year-old, who played most of his career as a central midfielder before shifting to central defence.
Vicelich actually played his last international before 'retiring' in central midfield in the 2-1 victory over Vanuatu in 2007 that secured New Zealand's place in the play-off with Bahrain.
His experience is one of the main factors in his favour. He became New Zealand's most capped player in A-internationals (65 games) when he played against Bahrain in Wellington and had seven years playing in the Dutch Eredivisie.
"You are not going to lack experience [with Ivan] and that might be what we need in this game," Herbert said.
"[He is] someone who is calm and patient on the ball. He knows the definition of [playing central midfield]. He is a strong influence in the team, along with Ryan at the back. We have experience through the middle of the park and around those players there's a lot of energy."
Vicelich's selection makes sense. It means New Zealand will lack pace in central midfield but he reads the game well and is more composed on the ball than Christie, who has given possession away too much in the past couple of games.
Michael McGlinchey was another option but he has had few opportunities to impress in the Cup buildup.
Instead, the diminutive former Scottish youth international is seen as something of an impact player who can come on and make a difference later in the game, as he did in the 0-0 draw with Bahrain in the first leg of the play-off.
Andy Barron might have expected to get a chance, given he came on in the 1-0 win over Bahrain but has played only 10 minutes of the last four games.
Perhaps Christie came the closest to claiming Brown's slot in midfield before Vicelich. When Brown and McGlinchey were injured, Christie came into the side for the match against Serbia, won 1-0.
The man who was the major 'left field' selection by Herbert has thus gone from complete outsider to almost-starter and could still get game time on Tuesday if Vicelich beats him onto the paddock.
Christie showed much of the spirit of this team, however, when, in talking about close friend Brown's possible return, he said: "Tim has been a massive part of qualifying, playing every game, and he has been a leader for us, on and off the fuield. I've got massive respect for the guy.
"It sounds cliched, as if I am trying to say the right thing, but I really hope he can play even if I miss out."
Meanwhile, Brown's remarkable recovery continued yesterday when he won his way back into the World Cup squad - although he will not play against Slovakia.
Brown was reinstated in the World Cup squad of 23 at the expense of Cole Peverley. The 29-year-old midfielder trained with the squad for the first time since fracturing his shoulder in the 2-1 defeat to Australia on May 24 but he was ruled out of playing against Slovakia.
Brown didn't take a full part in the training.
He participated in the fitness session with the rest of the players but split off with team doctor Celeste Geertsema and physio Roland Jeffery when the squad went into a game situation.
He looked to be favouring his right side throughout training but successfully came through contact work with the medical team.
"Yep," was Herbert's simple reply when asked whether Brown would come back into the 23. "We left him out [of the game during training] today to check how he was medically but we will see how he is through the night and he could well train with the team tomorrow. That's what I'm hoping.
"I think it's hard to see him play a part against Slovakia. He only played 45 minutes against Australia so he's missed everything else. He's incredibly fit."
It's clear Brown is still not 100 per cent fit. He might not be at any time during the World Cup. But if he is a chance to play in just the final game against Paraguay on June 25 he should come into the squad in place of Peverley.
A near-fit Brown could play. A fully-fit Peverley won't, so it's not like Brown will be taking the place of an able-bodied member anyway.
Herbert is likely to use only 15 or 16 players throughout the tournament, with Chris Wood, Jeremy Brockie and Michael McGlinchey the most likely to see time off the bench and goalkeeper Glen Moss an option for the final game against Paraguay, once he's served his four-match ban.
"I wouldn't want to say it's a medical miracle but it's healing pretty quickly," Brown said on arrival in South Africa. "I'm certainly not healed. They thought it would be a six-week turnaround and we are two-and-a-half weeks into it, but by it's going really well.
"It feels great. I have come over here to play. Obviously it's one achievement to make it to this point. They reckon I am about three weeks ahead of schedule and I think I have done well to get to this point but there are a whole lot of other challenges because I want to play and really contribute on the field."
Whether he gets to do that will depend not only on his shoulder but also how Simon Elliott and Vicelich do in central midfield. Brown could struggle to break his way back into the side if Vicelich does well, even though he is normally a regular when fit.
The rest of the All Whites side picks itself. Herbert will continue to employ his 3-4-3 formation with Leo Bertos and Tony Lochhead running the flanks.
Shane Smeltz and Chris Killen will join Rory Fallon up front, meaning there's no room for young tyro Chris Wood.
Likely All Whites side vs Slovakia (3-4-3): Paston, Reid, Nelsen (c), Smith; Bertos, Vicelich, Elliott, Lochhead; Killen, Fallon, Smeltz.
- Additional reporting from Chris Rattue.