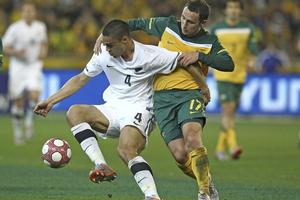 Tommy Smith and Winston Reid were names without faces when first linked to the All Whites.
Even their new international teammates knew very little or absolutely nothing about the youngsters, especially Reid, when they became mysterious add-ons to the World Cup campaign.
Their pedigree suggested they might be something special - Smith played for Ipswich in the English championship and Reid was in Denmark's top division.
Reid in particular drew plenty of doubters who recalled famous cases where players were signed for clubs unseen, and turned into embarrassing flops.
All Whites coach Ricki Herbert had never seen Reid play, although his defensive options were not exactly startling and the interest of Italian clubs was a pretty healthy guide to Reid's ability.
Fate was to link the names of Smith and Reid, the new young guns who changed their teenage international allegiances once the All Whites had qualified for South Africa.
Having initially been thrust together as the newcomers, observers have spent the past few weeks comparing their strengths and weaknesses and working out what sets them apart.
Their paths had crossed previously, but in opposite directions.
The Auckland-born Reid's family quit New Zealand for Denmark - his stepfather is Danish - while Smith's family left their native England for a new life in New Zealand.
Now, these two late arrivals are poised to flank Ryan Nelsen in the All Whites' three-man defensive line, replacing the veteran left-sided defender Ivan Vicelich and crowd favourite Ben Sigmund on the right.
Both Sigmund and Vicelich, who holds the record for international appearances, are naturally disappointed at slipping out of Herbert's starters in sight of the World Cup, although the coach insists he has still to finalise his side to play Slovakia in Rustenburg on Tuesday night.
In some ways, Reid and Smith mirror the men they replace.
The left-footed Smith, 20, is a sleek character, like Vicelich, and at 1.88m only a touch shorter than the Auckland City man.
At 87kg, the tall and bulkier Reid is a close match for Sigmund, and both have a few rough edges.
If New Zealand's plans go to fruition, Smith and Reid will form the heart of the defence for future World Cup finals campaigns.
Reid has probably attracted the greater attention - his game is more obvious, if that is the right description, yet it is Smith who has been the more impressive in many ways.
There's no doubting the potential of the 21-year old Reid.
He is a young man who is hard to miss, and even stands out in training, whereas Smith blends in.
At a training session in the Sinaba Stadium in the township of Daveyton this week, Reid could be seen blasting a 45-metre shot at an empty goal with such ferocity it bulged netting 10 metres behind the goal.
This was a display of power that made you take notice.
The young master blaster is a secret weapon. The All Whites don't like shouting about this, but Reid is likely to step up for some free kicks around the penalty area.
Reid even showed he could hit the ball with stunning power by swinging his right foot behind his left leg during a training session in the Johannesburg winter heat. He is an impressive, athletic specimen.
The problem is that whereas Smith has poise and patience, Reid can dive into tackles unnecessarily, almost as if he can play the cat and mouse game for so long before snapping, as happened against Slovenia at Maribor.
He should still hold his place, though. As a former All White noted last week, Sigmund lacks top class pace and can be caught ball-watching. Reid may have rough edges, but no more than the man he is replacing.
Australia certainly targeted Sigmund in the second half at Melbourne, trying to draw the Phoenix defender to the touchline and so break the link with Ryan Nelsen.
Sigmund is also awkward at moving the ball forward, whereas Smith and especially Reid are showing signs they can excel at this.
Smith relies more on his passing, whereas Reid looks very confident dribbling the ball upfield. This is a major plus under the current Herbert game plan.
Senior All Whites have complained that in past national sides, the ball has been hit forward in desperation, that the front men have dropped too deep under pressure, meaning the quick loss of possession and, inevitably, more pressure.
These All Whites are at least trying to play their way forward by holding clever positions when they don't have the ball.
With the naming of the first World Cup line-up just days away, the money will be on Smith and Reid retaining their spots, having held them for the last two build-up games, against Serbia and Slovenia.
The great news for New Zealand's future is both have made strong statements about their loyalties to the new cause.
Reid, who has Maori heritage, wants to encourage more Maori participation in soccer. Smith has two siblings living in the Bay of Plenty and his parents intend retiring to New Zealand. He has often talked of great memories from his childhood in the Bay and Auckland.
The pair have also entered the national squad at an excellent time, figuring in the World Cup and being surrounded by committed comrades in a well run side.
Ryan Nelsen in particular has set enormously high standards for the youngsters to build on.
Others such as Vicelich and Sigmund have shown what commitment is all about.
What we have learned over the past few weeks is that these classy youngsters have the ability to play a massive part in keeping New Zealand's international dreams alive.