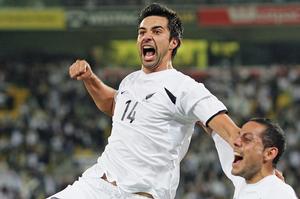 Just how good are the All Whites?
Former coach John Adshead poses the question when assessing New Zealand's chances of causing a shock and making it through to the knockout stages of the soccer World Cup, which starts in South Africa on Saturday morning (NZT).
Adshead says his query is a positive one.
The man who guided the All Whites to their only other appearance at a World Cup 28 years ago has been impressed by the form shown by Ricki Herbert's squad in the three lead-up matches he has been able to watch since they assembled three weeks ago.
They conceded a late goal to lose 1-2 to Australia and shocked Serbia 1-0 before falling 3-1 to Slovenia, two of whose goals came from free kicks on the edge of the box.
Earlier today, the All Whites were beaten 2-0 by Chile in a final hitout that was made up of three 30-minute periods and treated by Herbert purely as a training match.
"They did very well against Australia and showed terrific character and shape against Serbia," Adshead said.
"The Slovenia result you can take in different ways. Anyone is likely to score high quality free kicks against you. To suffer twice in a game tells you that you have to be more disciplined and not give away free kicks in these areas."
But Adshead also said three friendly fixtures wasn't enough to get an accurate gauge on whether the All Whites can respond successfully to the "huge ask" of getting out of their group and make the last 16.
The New Zealanders begin their campaign against Slovakia on Tuesday night (NZT). They then face defending champions Italy on June 21, before taking on Paraguay on June 25.
Adshead said a big plus for New Zealand was the presence of captain Ryan Nelsen, who he believed was the best leader the All Whites had had since Steve Sumner, who skippered his 1982 World Cup side.
"Ryan brings things to the game that we've never had before," he said of the Blackburn defender.
"He plays at the highest level of the game on a weekly basis against world-class players. Even Steve didn't have that in his little bag."
Adshead said Nelsen commanded respect from his teammates, led by example and continually organised those around him on the field.
"He never stops coaching while he's playing," he said.
"He does his own job and a few others as well."
For Adshead, the other key figure in the New Zealand line-up was Rory Fallon, son of his right-hand man in Spain, Kevin Fallon.
He said the tall and physical Plymouth Argyle striker, who set up the goal against Serbia and scored the one against Slovenia, added a new dimension to the team.
"He's a different type of player but a type of player you need at this level, somebody who's strong and can have an effect on central defenders," he said.
"Don't think he's just an aerial threat. Fallon can receive and he can lay off. If he gets the right sort of support, he's a dangerous player to have in your side."
Adshead believed that, whatever the results, the All Whites would be competitive.
"The game has changed dramatically," he said, referring to how much better organised teams generally were today.
"I would be shocked and disappointed if we were tumbled out of this group rather than the matches being reasonably tight throughout."
In his view, football was not a difficult game.
"If you can deny time and space to any side, they are going to find it very difficult to play," he said.
"You won't get the type of result you would get if Namibia play the All Blacks."
As for his top four picks to win the tournament, Adshead said making predictions was harder than ever, and he came up with three - European champions Spain, five-time winners Brazil and England.
He had maintained an interest in Spain's development since their under-17 side were in the same pool at the 2001 age-group world championship as Oman, whom he was coaching at the time.
Of the present Spanish World Cup squad, striker Fernando Torres and midfielder Andres Iniesta took part in that event.
Adshead said Brazil would always be seen as providing the biggest challenge out of South America, while England, who had four or five players of real quality, would a big threat is they performed to their potential.
As for who would ultimately lift the World Cup, Adshead said: "I'll go for Spain. I've fancied Spain for 12 months now."
- NZPA