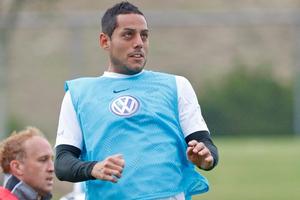 Leo Bertos fashioned a reputation for himself by what he could do with a football at his feet.
It contrasts with the Leo Bertos the world will see playing for the All Whites at this World Cup. The 28-year-old has been employed as a right wing-back in a 3-4-3 formation since the first leg of the World Cup playoff against Bahrain last November and admits it's something he's still struggling to adjust to.
At times he operates more like a right fullback, stuck deep in his own half, as he tracks other players trying to do to New Zealand what he often does to opposition sides.
It means he doesn't spend nearly as much time in the other half as he used to. Against Slovenia last weekend, for example, he made three attacking runs. Just three.
"It's not as often as I used to," Bertos said after this morning's (NZT) first training since arriving in South Africa.
"It's taken a bit for me to adjust to that position.
"Defensively, I haven't been doing too badly but my role is, more often than not, going forward and that's the aspect of the game that has been lacking recently. Maybe that has a little bit to do with opportunities but maybe I haven't been getting forward enough to help the rest of the team. Hopefully I can start doing that.
"That's the role I have to play to stop the opposition getting forward and breaking us down. If I get the opportunity to go forward, I have to make the most of it. It's a bit of pressure to do that but I am happy to be out there."
Bertos will be there for the first game against Slovakia on June 15. There are a couple of alternatives but coach Ricki Herbert isn't seriously considering them.
Right-side centre back Winston Reid is likely to see some game time in the position in the final training game against Chile on Thursday morning (NZT) and Andy Boyens played there with limited success in the 2-1 defeat to Australia. But Bertos would be close to the top of the list of players Herbert wouldn't want to pick up an injury.
It nearly happened in the 'friendly' with Australia, when he had Vince Grella's studs imprinted on his shins. Bertos was carried from the field soon after when Tim Cahill gave him a repeat dose.
Other countries have seen a number of their players invalided out of the World Cup recently, like England's Rio Ferdinand, and New Zealand certainly can't afford to lose anyone in a relatively meaningless warm-up against Chile. They don't have enough depth to really be able to cope.
"You just have to treat it like any other game," Bertos said, failing to mention the next game was the All Whites' first in the World Cup and that is not just like any other game for a New Zealander. "You can't go into any game trying to avoid injury. If it happens, it happens. That's just luck. It's another tough game for us and a great way to finish off [our preparations]."
Bertos has played Chile twice before when the All Whites ventured there in 2006. They were thumped 4-1 in the first game in Racagua but were more competitive in the second, going down 1-0.
Chile are a very good side and finished second in South American qualification for the World Cup, only one point behind Brazil, but All Whites coach Ricki Herbert has flagged that he will use the match merely as a training exercise and all 23 squad members will probably get a run at some stage.
He has said he is more concerned about getting through injury-free than the result after a successful European campaign.