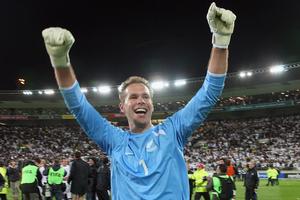 If there's one player the All Whites don't want to be without at the World Cup, it's skipper Ryan Nelsen. No one else lifts his team-mates merely by his presence and ability to organise.
But goalkeeper Mark Paston must rate a narrow second.
Rory Fallon is integral, yes, but others such as Chris Wood and Chris Killen can perform his role well. They are both talented and beefy strikers who can act as target men.
But Paston simply can't get injured. The All Whites cannot afford to be without him for their first two games, against Slovakia and Italy, even though he had a poor game against Slovenia yesterday and was at fault for the third goal.
Glen Moss was excellent at the Confederations Cup last year, when he was arguably New Zealand's best player. But he will miss the first two games because of of a four-match suspension for mouthing off at a referee in a World Cup qualifier in 2008.
He will be free to play in the last game, against Paraguay.
That leaves James Bannatyne as back-up against Slovakia and Italy. The likeable 34-year-old is not in the same class as Paston and Moss.
He's been the go-to guy for Wellington and New Zealand football, coerced out of retirement when goalkeeping stocks were thin. He helped Team Wellington to within a game of the grand final but the NZFC is not awash with talented goalkeepers.
The life of a No 3 goalkeeper is uncertain. Bannatyne earned All Whites recalls in 2006 and 2009 but hasn't played for the national side since the 5-1 defeat to Seville in 2006.
He's played only three internationals since his debut against the Cook Islands in 2001 but is only an injury away from playing at the biggest tournament of them all, the World Cup.
Paston is underrated. He's not a ranter or raver, commands his box well, is a decent shot-stopper and generally makes good choices.
He was excellent in both legs against Bahrain and will forever be remembered for saving that penalty. He rarely makes mistakes, even though he made a glaring one yesterday when fumbling an innocuous ball in the box. Better yesterday than at the World Cup.
He could be having difficulty with the controversial Jabulani ball that will be used in South Africa, which could explain why he has been punching it when catching seems a better option.
Paston will be vital if the All Whites are to enjoy success at the World Cup. New Zealand will come under considerable pressure and there must be a temptation to rest him for the final warm-up game against Chile to avoid injury.
"For the first two games, goalkeeper is the position where we have the least amount of quality cover," former All Whites striker Fred de Jong said.
"I would still play him against Chile because the defensive unit still needs time together and they are crucial to our hopes of success. You just have to take that chance."