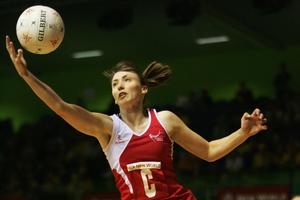 After weeks of speculation the Magic have confirmed England international Jade Clarke will replace injured import Peta Scholz in the squad for the remainder of the season.
With only three rounds left before the ANZ Championship play-offs, the Waikato/Bay of Plenty Magic left it to the last possible moment to name their replacement. To be eligible to play in the finals, Clarke needed to be in the match-day squad - but not necessarily take the court - for three games.
Knocked by successive losses in the last two rounds, the Magic will meet up with Clarke in Sydney this weekend ahead of Monday's clash against the unbeaten NSW Swifts. She will then travel back to New Zealand with the team.
Clarke, who plays at wing defence or centre, has played 49 tests for England since her debut in 2002.
Magic chief executive Sheryl Dawson said since the season-ending injury suffered by Scholz four weeks ago, they took their time to assess the qualities in their own squad and weigh up options from further afield.
"What we've done is a lot of thinking, a lot of scanning of the environment and looked at a lot of possible options in terms of playing scenarios," said Dawson.
In keeping with the Magic's secretive approach over the entire affair, Dawson would not say how long Clarke has been on the radar, when she was approached by team management or even when the England international arrives in Sydney.
So just why the Magic waited nearly a month before bringing in a replacement player remains unclear.
Any potential advantage of the late naming in terms of keeping their opponents guessing will surely be negated by the weeks lost that could have been better spent integrating Clarke into the squad. However Dawson said she doesn't believe it was a risk waiting to the 11th hour to bring in a replacement.
"It's not risky, it's been well thought out. We've had a process we've gone through including with our own players and we believed we've achieved it quite successfully."
Magic coach Noeline Taurua said she is mindful of there being an element of the unknown in bringing in a player mid-season.
"[Clarke's] not going to be the saviour, she's just one person ... She is coming from a different netball climate and that adds to the variables."
Clarke's signing was approved by Netball New Zealand on the basis of her being a "like-for-like" replacement for the injured Scholz.
While the Magic have been bolstered by the inclusion of the English midcourter, the Swifts were dealt a blow midweek with starting wing attack Vanessa Ware rupturing her anterior cruciate ligament in training.
This weekend, the Northern Mystics host the West Coast Fever side at the North Shore Events Centre today, before the Central Pulse take on the Firebirds in Brisbane.
The Melbourne Vixens will try to arrest a five-game losing streak tomorrow when they meet the Adelaide Thunderbirds at home.
ANZ CHAMPIONSHIP - ROUND 12
* Saturday: 2.20pm Northern Mystics v West Coast Fever, Auckland;
* Saturday: 4.20pm Queensland Firebirds v Central Pulse, Brisbane.
* Sunday: 4.50pm Melbourne Vixens v Adelaide Thunderbirds, Melbourne.
* Monday: 7.20pm Southern Steel v Canterbury Tactix, Invercargill;
* Monday: 9.05pm NSW Swifts v Waikato/Bay of Plenty Magic.