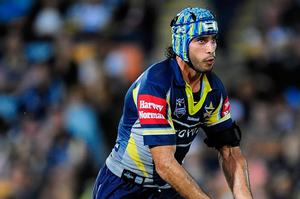 The bigger they are the harder they fall. Unless you're talking sports stars. In which case pretty much the exact opposite applies: the bigger they are the less likely they are to fall at all.
That was the only rule applied to Johnathan Thurston when the NRL's judiciary this week effectively ruled he was above the law.
Players such as Warriors veteran Micheal Luck have bemoaned the precedent set by Thurston's acquittal. The likes of Luck fear it is now open season on referees. If only that were the case. At least then some sort of equitable justice would apply.
Sadly it doesn't. Luck will discover exactly that if he lets fly at the referee at Mt Smart Stadium tomorrow.
The level of what a sports star can get away with is directly proportionate to their fame. At the top of the scale sits O.J. Simpson, the NFL running back whose rushing records qualified him to get away with double-murder and some seriously bad acting.
Slide down the scale a wee bit and you'll find Liverpool and England soccer hero Steve Gerrard, a player so important to both teams he can't be convicted of assault despite CCTV evidence of him and his mates piling into some poor sod who wouldn't pass him a stereo remote control at a pub.
Thurston is league royalty (admittedly a fairly stark contradiction in terms). As such eight F-bombs and a "you should be the man of the match" are perfectly acceptable.
Luck is a solid pro with the respect of just about everyone in the game. But he's no Thurston. Anything more than say, two F-bombs and a "useless clown" and he'd be on his way.
Others, such as just-departed Warrior Wade McKinnon, exist on such shaky ground they have been sent off just for idly standing around at a play-the-ball looking a touch grumpy.
Thurston's dismissal didn't create any sort of precedent that didn't already exist.
It did, however, create plenty of talking points. One that hasn't been given enough oxygen is the fact that the champion playmaker was wrong. Badly wrong.
Will Tupou's pass to Willie Tonga was clearly forward. Not only was Thurston's tanty entirely over the top, it was utterly unjustified. He should have got two weeks just for that alone.
It's hard not to wonder about Thurston's vision. This is the same bloke who said he didn't target the one-legged Manu Vatuvei in a recent match against the Warriors because he didn't notice the big man was injured - something that didn't escape the notice of the other 12,000 at the ground.
By contrast, a week later it took the Bunnies about half a second to notice James Maloney looking like a horse that needed to be shot and run a play through the vacant channel.
A continuation of that sort of blinkered play and Thurston will be in danger of having his quota of penalty-free tantrums slashed to a couple of "bulls***s" and a "get some glasses mate" to a touchie.
But Thurston's outburst isn't really the story. The horribly weak reaction to it is. Referee Jason Robinson was utterly hung out to dry by the NRL, which issued a statement urging referees to take control of such matters on the field.
When was the last time that happened - Bill Harrigan marching Gordon Tallis for calling him a cheat during a 2000 Origin match?
Robinson handled the situation with dignity. He humoured Thurston, defused the situation and the game ended without descending into farce. He deserved better. But then again, Robinson is only a referee.
He isn't even on the scale that determines what the likes of Thurston can get away with.