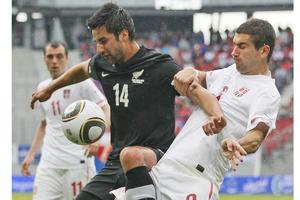 Defenders Winston Reid and Tommy Smith, the late World Cup recruits, won lavish praise from coach Ricki Herbert as the All Whites scaled a mountain few thought possible in Austria.
Fighting off jetlag and a punishing training schedule, a 22nd-minute goal from Shane Smeltz gave the All Whites a stunning 1-0 World Cup warm-up win over Serbia in what turned into a nasty atmosphere at the Klagenfurt stadium.
Serbian fans lost the plot, with two bottles thrown on to the field and four spectators invading the playing area.
According to team sources, Herbert and captain Ryan Nelsen may have considered taking the team from the field for safety reasons, and the game ended without extra time being played.
Victory over Serbia is a peak in New Zealand soccer history. If the great 1982 venture was fired by an obscure friendly victory over Mexico in Auckland, this one is suddenly flying high in the rarefied air of Austria.
Ironically, the highest-rated player on the field, Manchester United defender Nemanja Vidic, made the crucial error which allowed Rory Fallon to flick a ball on to Smeltz, who brilliantly goaled with two touches, turning Antonio Rukavina and stranding goalkeeper Vladimir Stojkovic.
Reid and Smith had their first starts together, alongside Nelsen and in place of Ben Sigmund and Ivan Vicelich.
It was Reid who supplied the long pass which inexplicably drew Vidic too far forward, allowing Fallon - who has become a towering figure in the All Whites' plans - to head on to Smeltz.
Smith supplied the wonderful cross for Fallon at the MCG which could have brought New Zealand victory and this aspect to their games loomed large in Herbert's post-match comments.
"I wanted to see how Winston and Tommy would go against a world-class team. To not only win the game but to concede no goals was great.
"Their ability to live on the ball, the fact they were really patient, to provide that patience from the back and the ability to play good ball forward was great.
"Some selections are going to be tough but the performances tonight are going to be tough to go past.
"If there was a measuring stick for the World Cup it was against Serbia. Tonight certainly didn't do any harm for the ones who took the pitch."
The All Whites have shifted to another soccer camp near Graz in preparation for Saturday's match in Maribor against Slovenia, a team without Serbia's pedigree, although such is the quality of European soccer they represent another daunting task.
Making the All Whites' challenge tougher, they are no longer flying under the radar after beating Serbia and their aerial attack route is now clear to one and all.
The relentless analysis that underpins world soccer means all teams are an open book, but any chance of opponents suffering from complacency has been wiped out by the Klagenfurt result.
The All Whites were exposed on the flanks a couple of times, and put under extreme pressure in the second half, but Serbia were sluggish in taking advantage. In chances missed, the ledger was about square.
Smeltz said: "It was a fantastic result and and another step towards the World Cup.
"The boys are pretty happy. We will take so much confidence from this ... away from home, against a top nation.
"But we won't get carried away and we'll just keep working hard.
"We knew we'd have our backs to the wall at certain points, but we have probably shocked a few people.
"I don't think they [Serbia] were too happy - they would have expected to beat us. A few teams may have to re-think how they play us."
The All Whites emerged unscathed, with only teenage striker Chris Wood going down, in the 58th minute, with cramp.
Wood is being asked to do more defensive work than he is used to, and the teenager doesn't have years of professional experience behind him, which builds a reservoir of stamina.
His best moment came just after the Smeltz goal, when he laid on what turned into rapid-fire chances for his fellow strikers.
Chris Killen, away to get married, will press hard to regain his starting place. Another issue for Herbert is how to use Michael McGlinchey, who was not considered against Serbia because of a hamstring strain.
Jeremy Christie, making his way back into the international fold, offers more defensive abilities, but McGlinchey's spark is hard to miss.
Herbert said he would bring in new players only if his first choices needed rest.
The match ended in bizarre fashion, with Vidic taking the microphone to calm the Serbian fans.
The All Whites played down the security issue, but some of them apparently felt edgy about the crowd behaviour.
Most of the team will watch England play Japan in Graz today.