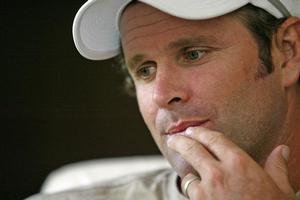 Chris Cairns continues to wait patiently - and, it seems, in a long line - to bring former Indian Premier League commissioner Lalit Modi to court over match-fixing allegations he made earlier in the year.
The irony is that Modi, the founder of the IPL empire estimated to be worth over $6 billion after just three seasons, faces allegations himself these days concerning fraud.
The suspended IPL chief has until May 31 before he next appears in court accused of a range of misdemeanours from rigging financial bids to betting and bribery.
"I'm currently an interested bystander," Cairns told the Herald on Sunday from Jakarta.
"We are still trying to have Modi served with papers. We're going through that process in India but it takes time to get through the court system. We're waiting for him, though.
"If he decides to go to the UK we'll have him served there but it is so difficult to know his movements - especially with all the turmoil he's embroiled in.
It's frustrating but we've initiated the process and just have to wait."
Modi is renowned for his defiance and has produced plenty of it so far in court - notably with a 15,000-page reply for court officials and lawyers to wade through on his first appearance in the dock. It is understood he still has the backing of the IPL franchisees.
None of that helps Cairns.
"It was going to be tough anyway when you do something like this but we are left with no option. We will continue to pursue justice but at the moment he's also going through a process which needs to reach its conclusion before any judgement is passed.
"We need to go through the proper channels to find out what to do next. I'm as interested as anybody to see how this pans out."
But does Cairns feel like he has already been vindicated?
"No, not at all. I still have to go through this [to clear my name]. There's not much emotion or anything like that but it is sad I've had to go through this process."
It has signalled a definite end to Cairns' playing aspirations after Modi had him culled from the IPL auction in January.
"The opportunity is gone now. I'm finished. There was that one window of opportunity in the IPL when I was asked to put my name forward but I'm 40 in three weeks [June 13] so reality dictates, even though a return was a romantic notion."
Cairns is currently spending time on the outskirts of Jakarta in Indonesia. He is being hosted by Christchurch expatriate businessman Robert Baldwin, who left New Zealand 36 years ago.
Baldwin has set up a new cricket ground in the country and has invited former test cricketers Robin Smith, Glenn McGrath, Nantie Hayward and Graeme Yallop to help open it over the weekend.
The newly-wed Cairns will return to Dubai soon to pursue his fledgling career in the diamond industry.
"Cricket's not part of my life at the moment. It'd be great to help out in a New Zealand capacity one day but because of what has happened I'm a bit of a poisoned chalice, really.
"I'm a realist though and I'm not going to put people in a compromising position. Once this situation with Modi is sorted out I'm more than happy to help."