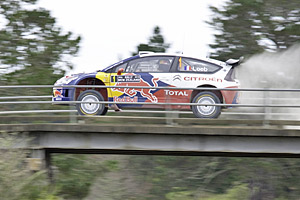 Defending world champion Sebastien Loeb produced the big drama on the opening morning of Rally New Zealand today when he slammed his car against a Northland bridge.
The incident happened on the 22.2km special stage four when he lost control on approach to a railway bridge near Taipuha and his Citroen struck the edge of the structure side on.
Were it not for the barrier that he hit, Loeb and co-driver Daniel Elena would have ended up rolling down on to the rail tracks below.
When Loeb, the six-time world champion and present championship leader, restarted his engine, the position of his car caused a small scrub fire.
The crash left the driver's door flapping, but Loeb continued with some speed to the end of the stage.
However, having begun the leg 15.6 seconds off the pace, he ended it one minute 40.3 second behind leader Dani Sordo, his Citroen Total team-mate.
Loeb said afterwards that his car would be fine for the day's five remaining stages.
"I was a little bit too fast in the right-hander with a very narrow bridge at the exit," he said of his crash.
"I lost the rear at the entry in the gravel and I couldn't catch the car back and make it straight before the bridge."
He said the impact didn't cost him much time.
Most of the lost time came when he stopped to try to fix the door, which he didn't want to lose completely.
However, he couldn't close it, so drove on.
Spaniard Sordo grabbed the overall lead on special stage three, the rally's longest at 32.6km.
His time of 20min 50.9sec was seven seconds better than the rest of the field and catapulted him from sixth overall.
By the end of stage four, Sordo was 5.5sec ahead of Frenchmen Sebastien Ogier, from the Citroen Junior Team.
Finn Jari-Matti Latvala was third, one second further back, after recovering from a slow start.
"I couldn't find a good rhythm in the opening two stages and I wasn't completely comfortable with my driving," the BP Ford driver said.
"The third stage was better and the final one was quite fantastic to drive. It was just like a stage at home in Finland and was probably the best feeling I've experienced this year."
- NZPA