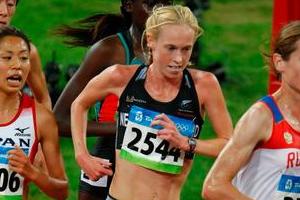 Kimberley Smith broke Allison Roe's 29-year-old New Zealand women's marathon record to ensure a top-10 finish at the London marathon today.
Smith finished eighth in a time of two hours 25 minutes 21 seconds, 3min 21sec behind the winner Liliya Shobukhova of Russia in the 30th edition of the famous event, contested in steady rain.
It was 85sec under Roe's record, which Athletics New Zealand lists as 2hr 26min 46sec in Boston in 1981.
Smith now holds two national road records after posting a New Zealand half-marathon record of 1hr 07min 55sec in New Orleans last month.
The United States-based 28-year-old was confident of breaking Roe's record heading into the race after a trouble-free buildup compared to some of her rivals whose travel plans were disrupted by the Icelandic volcanic eruption.
She booked a flight from Boston to Dublin during a small window on April 17 when the giant ash cloud briefly cleared.
"For sure I had the best journey (of the other athletes)," she said.
"I had booked a flight to the UK the day the volcano first erupted. I looked into the other options and managed to get on a flight to Ireland. It was weird for just one day the flights opened, so it was good timing and good luck."
Last year's runnerup Mara Yamauchi - who finished 10th - endured a mammoth six-day journey from Denver via Portugal, Spain and France.
Smith, who contested the 10,000m at the 2008 Olympics, had targeted a sub-2.25 time.
"My coach (Ray Treacy) believes I can run under 2:25 and there's not much point (running marathons) if I can't," Smith said.
"If I can't run that fast, I'll probably go back to running 10km. I want to be a marathon runner really badly."
Temperatures of 21degC and clear skies had been predicted for today but, after a week of fine spring weather, rain fell during both races and the sky remained overcast.
- NZPA