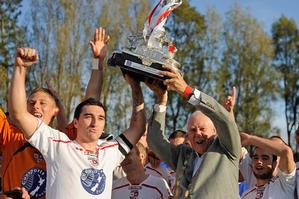 Waitakere United came from a goal down to clinch their second New Zealand Football Championship soccer title with a 3-1 win over a 10-man Canterbury United in Auckland today.
Tom Lancaster fired Canterbury into the lead in just the sixth minute but a classy strike from Benjamin Totori in the 34th minute levelled the scores shortly before a red card to Canterbury midfielder Paul Dirou for a high challenge tipped the balance of the match in the home side's favour.
Man-of-the-match Allan Pearce put Waitakere into the lead 12 minutes into the second half while Totori grabbed his second with just over 17min remaining as Waitakere stepped up a gear against a tiring Canterbury outfit.
With the second leg of the O-League final at the same venue next Sunday when Waitakere need to haul in Hekari's three-goal lead to qualify for the 2010 Club World Cup in Abu Dhabi, player-coach Neil Emblen admitted to some nerves.
"We were apprehensive because we've come so far, got ourselves into two finals but there's still the chance you could end up with nothing," Emblen said.
"That fear of failure does scare you a little bit, especially at a club like Waitakere that's been so successful over the past few years.
"It's nice to get the first one out the way and now we will start thinking about the Hekari game, how we overturn the lead they've got and how we win that competition as well."
Despite playing in their first final in four years, Canterbury showed no signs of stage fright with target man Russell Kamo providing a solid attacking platform for Lancaster and Aaron Clapham.
Goalkeeper Tom Batty had an assured game and it was his presence of mind to chest a ball and play out quickly from the back that led to Kamo and Clapham combining to tee up Lancaster for the early opener.
For Waitakere, Totori and Krishna displayed flashes of brilliance and only the foot of Batty stopped Krishna equalising at the end of a mazy run that began near the halfway line.
The ball spun on to the post and back into Batty's arms and moments later the woodwork denied Krishna again, with a snap shot rattling the crossbar.
Totori then delivered on the glimpses of dangerous promise he had already shown when cutting in from the left and blasting the equaliser past Batty.
Three minutes later Canterbury midfielder Paul Dirou was beaten to the ball by Jason Rowley and only succeeded in catching him high with a raised boot.
"The sending off changed the game and I feel sorry for the lad, although he did go high and it's one of those challenges that looks bad," Emblen said.
"Having said that, I thought we had momentum back before the sending off but it may their job a lot harder."
The second half was dominated by Pearce on the right flank as he set up Butler for a squandered chance before finding the net himself with a pinpoint shot across an outstretched Batty.
Starving Canterbury of possession, Waitakere grabbed their third goal through Totori, who was slipped a pass from Butler and proceed to tip toe around Batty to seal victory.
Coach Keith Braithwaite, who inherited a Canterbury side which had finished last for the previous two seasons, said their performances this year bode well for the code in his region.
"It's a foundation. The board of Canterbury United are working hard and have plans for the future. If we do things right then there's no reason why we can't be back here in the final next season," Braithwaite said.
"We're very disappointed but we've been beaten by a very good Waitakere side. When they break they put us under a lot of pressure and with 10 men they picked holes out and punished us."
Waitakere 3 (Benjamin Totori 2, Allan Pearce) Canterbury United 1 (Tom Lancaster). Halftime: 1-1
- NZPA