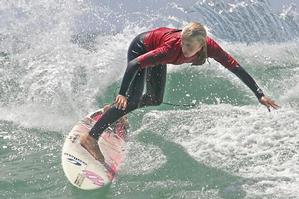 New Zealander Paige Hareb produced the second best ride of the day as the third leg of the women's world surfing championship tour finally began off the coast of Taranaki today.
Home town hopeful Hareb was the fourth-highest qualifier of the 12 surfers to advance directly to the third round while 15-year-old compatriot Sarah Mason was impressive in her debut appearance on the Dream Tour but was among the six heat losers who must contest the second round repechage.
Top qualifier from the first round was Australian Sally Fitzgibbons, who won the final heat with an overall score of 17.26 points, made up of her two best wave scores of 9.33 and 7.93. That beat the 15.30 of Hawaii's Coco Ho and Australian three-time champion Stephanie Gilmore, who went from third to first in the dying stages of her tense heat to qualify third with 14.40.
Hareb was next with 14.27, which included a brilliant wave score of 9.00. It was second only to Fitzgibbons' best effort and came in just her third wave of the day, performing some exciting backhand moves in fast-breaking right hand waves.
Two of the five judges marked it 9.50 out of 10.
It was enough to see off her heat rivals, Melanie Bartels of Hawaii and Lee Ann Curren of France, who recorded totals of 12.43 and 7.40 respectively.
"The wind was pretty tricky out there. I just tried to make sure I got the best waves in the set and just did my thing. It's just like any other contest," said Hareb, 19, who is relying on local knowledge to improve on ninth placings in each of the first two events this year in Australia.
The other heat winners today were South African Rosanne Hodge (14.00 points) and Australian Jessi Miley-Dyer (12.30).
The most exciting heat of the day involved Mason, who was offered a wildcard entry overnight following her win in a pro junior contest off New Plymouth yesterday.
The New Zealand women's champion was far from overwhelmed and took the early lead with her first wave score of 6.67.
She still led at the halfway point of the half-hour heat but she struggled to match her early effort and her total score of 11.34 was passed in the closing stages by Gilmore and Hawaii's Carissa Moore (13.90).
New Zealand's first hosting of an ASP Tour event was marred by small waves on the first two scheduled days of competition at the main venue of Fitzroy Beach in New Plymouth, resulting in postponement.
Organisers today relocated to an isolated beach simply called Spot X, 50km south of New Plymouth, where 1m waves were deemed viable despite the strong winds.
- NZPA