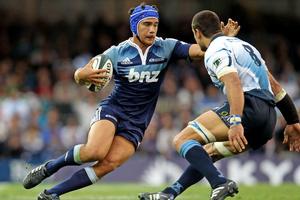 It was always going to take a rousing performance to end the Bulls' Super 14 winning streak and the Blues delivered exactly that with a 32-17 home win today.
For once the South African defending champions were out-muscled up front and the Blues had enough class out wide to take full advantage in a two-tries-to-one performance at Eden Park in Auckland.
The performance of unheralded forwards such as No 8 Viliame Ma'afu, flanker Serge Lilo and prop Charlie Faumuina laid the foundation for victory over a Bulls side who suffered their first loss in seven matches this season but will still remain top of the standings.
They effectively negated the Bulls' rolling mauls, were stronger at the breakdown and aggressive on defence, knocking the visitors' off their stride in their rare incursions on attack.
Bulls first five-eighth Morne Steyn landed 12 points with the boot, including his first droped goal of the campaign, but was eclipsed by the 22 to opposite Stephen Brett, who landed eight-from-nine shots.
It was the Bulls' first loss in 13 matches and will provide a glimmer of hope to those wondering if the methodical men from Pretoria were shoo-ins for a third title in four years.
The Blues made it seven-from-seven in home matches against the Bulls and the scoreline could have been greater were it not for numerous examples of poor handling when deep on attack.
They dominated possession and territory, regularly shredding the first line of defence to break the advantage line.
In their attempts to slow down possession, the Bulls were regularly warned and heavily penalised by South African referee Craig Joubert. Reserve flanker Pedrie Wannenburg was sinbinned for constant infringing in the 53rd minute while reserve lock Flip van der Merwe suffered the same fate with 3min remaining.
Despite playing with a steady wind at their back the Blues only led 16-11 at halftime, which was reduced to 19-17 with 20 minutes remaining.
First five-eighth Brett's fifth and sixth penalties were bisected by a brilliant try to winger Joe Rokocoko in the 62nd minute as the hosts clamped control over the final quarter.
Fullback Isaia Toeava set up Rokocoko's try cleverly and scored his team's first in the 36th minute. He was part of a back three including Rokocoko and winger Rudi Wulf who were a constant threat on counter attack.
Impressive Bulls No 8 Pierre Spies stretched out for his team's only try after 26min but his influence faded as the match wore on.
Blues captain Keven Mealamu sensed his side were ready for a strong performance after a quality buildup.
``Playing against a side like the Bulls, we knew we had to step our game up," Mealamu told Sky Sport.
"Every single one of the boys stepped up tonight, it just shows what we can do when we play some good football.
"We just have to make sure we keep up the good work, we're still in control of our own destiny."
Bulls captain Victor Matfield accepted his side had been outplayed.
"They played awesomely. They beat us at the breakdown and dominated the contact point,' he said.
"We knew it was going to be tough, just on the night we didn't perform.'
The Blues improve to four wins and three losses ahead of a home match against the Stormers next week while the Bulls travel south to face the Chiefs in Hamilton.
Blues 32 (Isaia Toeava, Joe Rokocoko tries; Stephen Brett 6 pen, 2 con) Bulls 17 (Pierre Spies try; Morne Steyn 3 pen, dropped goal). Halftime: 16-11.
- NZPA