It may have come as a surprise, but Valerie Vili is not the first athlete to cut the coach strings.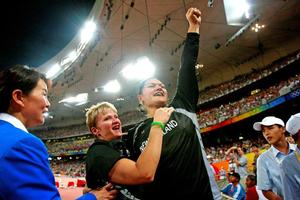 It isn't unique. It isn't even unusual. There comes a time even for the world's best to find new ideas and inspiration.
It can be the most traumatic of times, particularly if athlete and coach have come from nowhere together and reached the top.
A 14-year-old Valerie Vili possessed the potential but it was raw, unrecognised, unhewn. Terribly shy and vulnerable, she needed nurturing as a person as much as an athlete. Kirsten Hellier saw all this, told Vili way back then that she would one day be an Olympic champion, and she took her into her family and her heart.
Vili became Hellier's great project, a dedication which meant she also became her meal ticket. They both soared and prospered. When relationships so deep and multi-faceted end it's ... well, Vili's description this week hit the nail on the head. "It's like a divorce," she said.
When the decision was done it was in the presence of a lawyer, as is often the case in divorces, particularly when money is involved - as is the case in athletics when you are the best of the best.
But you suspect that for Vili and Hellier money is incidental, though the split means the end of an international career for the coach.
The wrench when tennis champion Andre Agassi and his coach Brad Gilbert split had nothing to do with money. It was Gilbert who made the call, feeling that after eight years and six grand slams together that they were growing stagnant.
"I've burned through my bag of tricks buddy," Gilbert told Agassi. It was time, the coach decided, for the then 32-year-old Agassi to find "a new voice for your home stretch ... someone to re-motivate you".
Agassi relates in his book, Open, that Gilbert feared that they would get into an argument as the end approached and that it would carry over and spoil their friendship. In other words, time was up.
In the case of Olympic triathlon champion Hamish Carter, it was the athlete who made the call.
Telling the coach who has guided you since you were a short-pants-wearing schoolboy that the partnership is over was, Carter acknowledges, one of the toughest moments of his career. It may also have been one of the most important.
Under the guidance of Jack Ralston, Carter rose to the top of world rankings and to favouritism for the Sydney Olympics - but there he fell well short of his potential. The fire needed to be fanned by a fresh breeze.
"It is one of the hardest decisions I've had to make. Jack was someone who had been there for me as long as I could remember because I had worked with him since I was 13.
"It was a really difficult conversation to have. It's almost like you feel you are letting him down."
Carter gives credit to Vili for making the call.
"A fresh pair of eyes, fresh ideas will ultimately take her to a new level and she has to do that. She's obviously strategically really thought about it but that doesn't make it any easier. It's a pretty scary leap of faith."
Although the end of such close unions seldom come without straining the relationship, Carter says not all are prompted by a falling-out.
"You can go through a huge part of your career with someone and get to a point where you have to make such a decision. That's pretty much what I had to do."
The bond seems to have been as close as can be between Vili and Hellier; closer than Agassi and Carter's athlete-coach relationship. Agassi had an entourage to lean on that included his father figure, Gil, his brother Philly and two very close friends.
Over the years Hellier had been much more than coach. When Vili's mother died young, Hellier was there. When that 14-year-old, grown into a mature woman, proved Hellier's prediction right in 2008, it was to her weeping coach Vili immediately skipped and danced across Beijing's Bird's Nest track.
"Kirsten and I share a lot of things," she said at the time. "We're really good friends, and we make a great team as far as athlete and coach is concerned. She knows what gets me going. It's been 10 years and she has been stuck with me and I've been stuck with her and it seems something is working. I'm just so thankful she is able to help me."
Although not to belittle it, sentiment often has to take a back seat when a champion seeks to dominate in his or her sport. Vili's aim is to be the dominant shot putter of her generation.
Her rival is Belarussian Nadzeya Ostapchuk (four years and eight months older) whom Vili, 25, relieved of the number one position but who is now pushing back. Vili is reigning World and Olympic champion but her rival has thrown further, and last month set an event record beating Vili for the world indoor title.
The battle for supremacy between these two - with Natallia Mikhnevich, also from Belarus, close behind - has years yet to run.
Ostapchuk has the services of renowned coach Alexander Efimov. Vili cannot leave any stone unturned in her search for improvement.
She and her manager Nick Cowan, along with Athletics New Zealand and funder Sparc, are scouring the globe for candidates. A package of around €100,000 may need to be offered. Such an amount would likely underline what good value Hellier has also been financially.
Tennis had given Gilbert the financial security to make his call, a factor that should not to be underestimated when considering Hellier's situation.
Hellier's association with Vili seems not to have provided financial security and she must now find an alternative career.
But it seems that Hellier understands what Gilbert understood. "I just knew it was time for her to hear a new voice," Hellier said this week.
It would be a shame if the end of their coach-athlete relationship was to detract from such an amazing journey.
VALERIE VILI
Age: 25
Reigning: Olympic and World champion
Personal best: 21.07 (2009, IAAF meet, Greece)
Progression:
* Age 18 - 18.93 metres
* Age 20 - 19.87
* Age 22 - 20.54
* Age 24 - 21.07
* Age 25 - 20.49 (so far)
NADZEYA OSTAPCHUK
Age: 30
Reigning: world indoor champion
Personal best: 21.70 (2010 Belarus national championship)
Progression:
* Age 18 - 18.23 metres
* Age 20 - 18.82
* Age 22 - 19.40
* Age 24 - 20.36
* Age 25 - 21.09
* Age 30 - 21.70