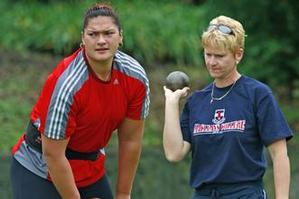 An international search for Valerie Vili's new coach begins today, with the Olympic shot put champion set to be consulted on the process while on holiday.
A teary Vili shocked the athletics fraternity on Sunday by announcing she had parted ways with coach of 11 years Kirsten Hellier, describing their split as like a "divorce" although the pair will remain firm friends.
It came just a day after winning her 10th national title in Christchurch, Vili timing her announcement with the end of the domestic summer.
Manager Nick Cowan said the 25-year-old world champion from Auckland was taking this week off and would attend a friend's wedding but would be involved with the appointment of her new coach.
Cowan, a former national-ranked sprinter, indicated key candidates would be approached as soon as this week by he and Athletics New Zealand (ANZ) officials, with the position probably finalised some time next month.
"I don't think we'll be putting an ad in the paper but we'll be taking counsel from key people in various places," Cowan said.
"We will work with Sparc and Athletics NZ next week to begin the process of the new coaching regime that she wants. We'll have some conversations with some key people and hopefully in the near future we can have it all sorted."
Cowan said he wasn't involved with the end of a long and successful partnership. Vili and Hellier came to that conclusion themselves, he said.
"It's something they've been talking about for a while and they just reached a decision together that this was in the best interests of Valerie for her ongoing future."
Hellier yesterday said the pair had sensed something was amiss in what had always been a tight relationship which stretched beyond the usual coach-athlete union.
They had provided support for each other through difficult personal moments in each other's lives.
"Both of us have known that there has been something not quite right for some time. That's been pre-empted by a number of other issues," Hellier told Radio Sport.
"I wouldn't say we weren't getting on. It was brought on by a number of individual stresses on both of our sides.
"She's phenomenally talented, she's an awesome lady and I love her to bits and I want nothing but for her to go forward and to continue with her progress. I know within my heart that I wasn't the one to do it."
ANZ chief executive Scott Newman said the announcement came as a shock although he became aware midway through last week that the pair were assessing their future.
"It's their call. If it wasn't quite right and they felt they couldn't progress then they've made the best decision," he said.
"Everyone knows how tight-knit these guys have been over the last 10-11 years so we were very happy for them to make the decision.
"It's time to go to the next stage. Val has dominated the world stage for the last three-four years and if they feel they've hit a point where they can't progress then this could be the best decision for both of them."
Newman said Vili's first defeat for 2-1/2 years, at this month's world indoor championships in Doha, was unlikely to have been a catalyst. Vili actually threw a personal best indoors, only to beaten by in-form Belarussian Nadzeya Ostapchuk.
"Being a world class athlete, Val is obviously very technically knowledgable," he said.
"Perhaps she's decided she needs some technical improvements, perhaps some support in other areas. I guess we'll scour the world and find the best people we can for her."
Newman said a text from Vili this morning convinced him she was still highly motivated to succeed, with her next target to defend her Commonwealth Games title in New Delhi in October.
However, her message mirrored an email he received from Hellier on Sunday, indicating regret that a decade-long partnership was over.
"They're both very, very, depressed at the moment but both vowing to bounce back."
He said Hellier would continue to work with other New Zealand athletes and would play a role in coach development.
- NZPA