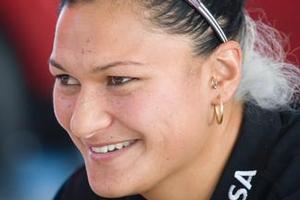 Fifteen-year-old Jacko Gill, from Devonport, upstaged older counterparts, including Valerie Vili, in the shot put at the New Zealand athletic championships in Christchurch at the weekend.
Gill set four age-group records over the two days, a M19 and M18 record of 19.92m with the 6kg shot and improved on his M16 record with the 5kg shot sending the ball of steel out to 20.88m.
Gill, who also holds the New Zealand M16 discus throw record, comes from a great background in the sport with his father Walter the national discus champion in 1975 and shot put champion in 1989 and his mother Nerida winning the national women's discus title in 1990.
Gill said the secret to his success was hard work.
"Just lots of training and hard work, I just train really hard every day," said a modest Gill.
The world junior championships in Canada in July and the world youth Olympics in Singapore in August are next on his horizon.
"My long term goal would be a medal at the Olympics or Commonwealth Games," he said.
Vili came out in the cold conditions to win her 10th New Zealand shot put title on Saturday.
She was consistent around the mid-19m range throughout her six throws, with the best coming in round four with 19.60m.
"The cold was no excuse for throwing like that, but I was pretty happy to put out title 10 and pretty happy to be here."
Yesterday's announcement from Vili that she is no longer to be coached by Kirsten Hellier capped a tough couple of weeks for the Olympic and World champion.
Vili lost her world indoor title in Doha Qatar to Belarusian Nadzeya Ostapchuk on March 14.
"The last couple of weeks have been pretty tough coming back from Doha and then having to deal with a family funeral and stuff like that," said Vili.
"I came and did my job. I'll take a break next week, then I've got three comps overseas, in Thailand, Shanghai and New York in May, June, then the diamond league.
"Then I'm looking forward to the World Cup and the Commonwealth Games in October."