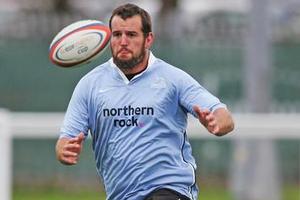 Unless reality bites in the crazy world of French rugby, New Zealand will undergo yet another exodus of players after next year's World Cup.
The clean-out could be massive and it won't be confined to the top tier of talent. For all that the French are talking about reducing foreign player numbers, the scramble for Carl Hayman shows the appetite for star names in the Top 14 is undiminished.
Nor have budgets been constrained by the recession. Hayman signed with Toulon for a reported $1.2 million a season. Clermont put $1 million on the table, Toulouse were not far behind and nor, supposedly, were soon-to-be-promoted Agen.
Next year the likes of Dan Carter, Richie McCaw, Mils Muliaina, Tony Woodcock and Ma'a Nonu will have to decide their post-Rugby World Cup futures. Inevitably, many of these senior All Blacks will leave, especially when they are offered enormous sums by French clubs. And it will be when, not if.
Others will retire. That's always the way around World Cups - the long servers are ready for a new challenge.
But what worries the New Zealand Rugby Union more in the wake of Hayman's decision to sign with Toulon is that their last line of defence has been breached.
The French have the spending power to render the lure of the black jersey redundant and in time it won't just be those players nearing the autumn of their careers who take the money.
Since the start of the professional age, the All Black jersey has been able to bridge the gap between the money on offer in New Zealand and the higher numbers in Europe. But the gap in the case of Hayman was thought to be around $600,000 - an enormous amount of money which the big prop felt he couldn't turn down.
"There has to be a value reached where the jersey no longer bridges the gap," says NZRU chief executive Steve Tew.
"We have been concerned about the money on offer in France for some time. The money offered by Toulon has no footing in reality. We don't know how they reach the values they do but they are owned by a private individual, so there is not much we can do."
New Zealand's top players have always had to determine the value of a test career against the greater money available overseas. Mostly, however, the choice has never been so explicitly presented.
The great names - Christian Cullen, Carlos Spencer, Jerry Collins, Andrew Mehrtens, Justin Marshall - headed offshore because the choice was removed; the black jersey was no longer an option. For them, and every other professional player, their goal was to make the All Blacks and stay there. Offshore stints were part of the picture but only came into the reckoning when test careers had clearly ended.
Even when Luke McAlister and Aaron Mauger decided to head offshore in their mid-20s, all they did was change the chronology. The overseas contract became a mid-career sabbatical. McAlister came home after two years to resume his test career and Mauger will probably do the same if he decides his body is able to handle the demands.
Hayman was arguably the first player required to make the choice in such stark terms. He had one last big contract left in him and the All Blacks almost begging him to come home.
Part of him wanted to go down that road and have a crack at the World Cup - a bigger part, though, wanted to stockpile the cash so he could more quickly fulfil his post-rugby ambition of dairy farming.
By signing for Toulon, he declared himself a genuine rugby mercenary - a scrummaging assassin ready to work as hired muscle for the highest bidder.
Hayman, always one to plough his own furrow, has been honest enough to admit his primary career goal is to set himself up for life after rugby. What he's done is say the journey is almost irrelevant; only the destination matters. This is a significant and potentially dangerous shift in motivation from the NZRU's perspective.
In all their negotiations to keep players and lure others home, they have held a trump card - the prospect of being an All Black. It has been a hugely powerful tool in the battle to retain talent. Carter and McCaw, in demand around the world, have made it their goals to become iconic All Blacks. For them, and for Mils Muliaina, Tony Woodcock, Ali Williams, Keven Mealamu, Andrew Hore and many others, the All Black experience has been deemed invaluable.
They have been prepared to earn less money here, believing the package to stay was ultimately better, as it contained a component worth more than cash. These men all value the journey, believing a career has to contain sporting highlights and indelible memories.
The choice isn't about retiring poor but emotionally fulfilled against retiring rich. Those who have stayed in New Zealand have viewed their careers holistically; striking a balance between money and being part of something that touches other people's lives.
Because Hayman, a player widely liked and respected, has been the one to break new ground - and declare he's exclusively interested in setting himself up for life - there are fears other promising players might now feel a barrier has come down.
"I thought long and hard about it for a while but it's nice to have a bit of certainty and know what I'm doing," Hayman said on Sky's Northern Exposure programme.
"I guess there were a number of reasons [I chose Toulon] and one of them was a bit of a financial decision to go to France.
"I'm 30, I don't know how many years I've got left in rugby - I'm sort of at a stage when I need to try to make every post a winner and put a few in the back kicker at the same time.
"I've [given] good service to the All Black jersey, I've been at the coal face just about every week of my career when I was in New Zealand, playing the 80 minutes every week.
"I've done my bloody dash. I guess there's a time in one's life and one's career when you have to be a bit selfish sometimes and think of yourself."
If there was a reluctance among players to be seen to be chasing the money, that may now have ended with Hayman's honesty.
The game could be entering a new phase where players unashamedly shun the test arena, or have only the briefest flirtation with the All Blacks, as a means to boost their overseas earning potential.
Already there are signs of the shift. Tamati Ellison, after just one All Black cap, will head to Japan later this year.
Rather than wait to see if he can win any more, he's decided to look after his family by signing a big money deal.
If the goal becomes simply to amass wealth to fund a different life, then New Zealand rugby not only opens itself up to accusations it has lost its soul but it will also lose serious numbers of players.
If all goes to plan for Hayman, the period between 2007-13 will land him an estimated $6.5 million in wages. Had he come home this year, that figure would have dropped to an estimated $4.5 million.
But in this second equation there was also the potential to become an All Black legend - to build on his 45 test caps and be part of a team that made history.
In a straight shootout with the French clubs, the NZRU will lose every time. If the definition of a successful rugby career becomes purely about how much money is put in the bank, then New Zealand is stuffed.