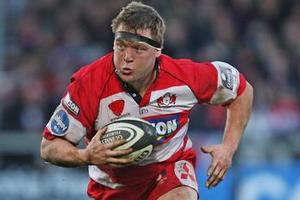 If Greg Somerville didn't realise he was viewed as a poor man's Carl Hayman, he'll be getting the message now.
With Hayman moving to France, the New Zealand Rugby Union are increasing their efforts to sign Somerville and bring him back ahead of next year's World Cup.
Clearly, the All Black coaches are not convinced they have all the propping talent they need, as the efforts to sign Hayman were considerable. Not only did the national body scramble together a financial package that was huge by domestic standards, they are understood to have caved in late in the negotiation and offered Hayman a one-year deal where he could leave for Europe immediately after the World Cup.
When the big man, still rated by Graham Henry as the best tighthead prop in the world, said no, it immediately changed the equation for Somerville.
"I suppose he probably did jump up the priority list," said New Zealand Rugby Union chief executive Steve Tew.
"They [props] all did. Greg has always been someone we have talked casually too about coming back. I guess the equation does look a little different to him now."
Somerville is currently with Gloucester and is off contract in June. His time in the UK hasn't been a roaring success, with the club struggling for results and Somerville not fully convinced of the merits of an endless winter and warm beer.
While Somerville has never won the same accolades as Hayman or Tony Woodcock, he is New Zealand's most capped prop and the sort of player coaches love.
Technically, he's on the button. He's strong, mobile and old school in his desire to work hard without complaint. He can play both sides of the scrum and at 32, he's by no means past his best.
Had Hayman decided to come home, Somerville would have been of less interest to the All Blacks. Likewise, the All Blacks would have been of less interest to him. Hayman would have taken possession of the No 3 shirt, leaving Somerville uncertain of how much test football he would play.
But that's all changed. Somerville could now be a vital part of the All Black picture as the national coaches remain jittery about their existing options.
Neemia Tialata is on his road to redemption. After allowing his conditioning to slip last year, he turned a corner. He got himself fit in the latter part of the year and earned his starts on the tour of France, Italy and the UK.
But are the coaches convinced Tialata will hold it all together between now and 2011?
Having the option of Somerville provides reassurance, especially as the most promising tighthead, Owen Franks, is still only 22. Franks is aggressive. He's committed and a player everyone likes but he's also inexperienced and a little raw and he could greatly benefit from the arrival of Somerville in the Crusaders and All Black camps.
John Afoa is still a work in progress in terms of his scrummaging, as is Wyatt Crockett, which is why the NZRU will now make a determined effort to lure Somerville home.