He was a brilliant prop, but the ex-All Black made the right move by choosing club rugby in France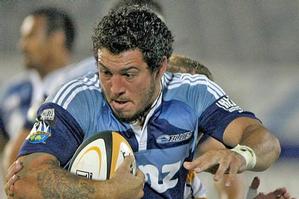 The big news of the week was Carl Hayman's decision to stay in Europe rather than come home to chase a place in the World Cup team next year.
I believe he has made the right decision in many ways. As a player, you've got to be careful on these matters, and make sure you aren't trying to relive the old days.
His decision wouldn't have been made with the heart - he would have been very tempted to experience putting the black jersey on again. I still feel like that sometimes, and I've been retired for 10 years.
But when you are presented with the sort of money Hayman is being offered at this late stage in his career, you have to be sensible.
He can still be very proud of his contribution to All Blacks rugby. He was the world's best prop. But he has made the decision to move on - and now the All Blacks know that they need to as well.
At least they have a reasonable amount of time to find his replacement. The tighthead props know they have everything to play for; that there is a World Cup place at stake now.
Had Hayman returned, this would have blocked the path for at least one of the hopefuls.
One of the players in the frame is Neemia Tialata, whose record doesn't speak that well.
Tialata is a great talent but he doesn't always seem to fire on all cylinders. When he is fit and firing, there is no better prop around. But he is one of the players who needs to ask himself how much the black jersey means to him. The ultimate goal is to know exactly what the team needs, and how they are going to provide that.
It was wonderful to see the Blues back in winning ways against the Brumbies - and what more can we say about Rene Ranger?
The more this guy can be on the field the better.
Ranger is taking the opposition on, and makes his mind up early about whether to try going through opponents or around them.
He's not the out-and-out fastest back in the game, but he is creating havoc, turning up everywhere.
He is the sort of player who gets people on the edge of their seats - the reason why people pay their money to go through the turnstiles.
Ranger may not necessarily fit snugly into game plans and as such he reminds me of the former league and union star Jason Robinson, the way he is here, there and everywhere.
Now and then you have to give those players their opportunities, rather than stagnate them, trapping them into patterns.
We'll see if he can explode again on Saturday night against the Waratahs, who have been steady more than anything else.