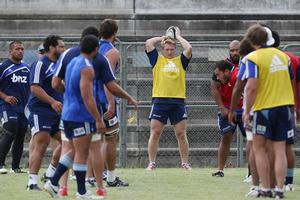 Tom McCartney is the latest in a long line to take on one of rugby's most thankless jobs.
His job description reads "Blues reserve hooker", but for more than two decades, people assigned to that backup role for Auckland and the Blues have been occasional footy players at best.
The reasons are straightforward and twofold; Sean Fitzpatrick and Keven Mealamu. Both captains, both All Blacks, both long-term occupants of the No 2 jersey for the province, franchise and national team.
During Fitzpatrick's tenure, men such as Paul Fox, Mike Turner, Nick Mantell, Ross Nesdale, John Akurangi, James Christian, Brad Morris and Andrew Roose had limited gametime for Auckland or the Blues.
When Mealamu slipped into his work more than a decade ago, it started another selection shutout.
McCartney has clocked up a sizeable number of games in the national championship and 13 in his three years as Blues understudy. But he has only started one match for the Super 14 side.
"Oh look it's just the way it goes and I have learned to get my head round it," said McCartney. "I understand the situation because Kevvie is an awesome player, a legend and a great leader of the team. From my point of view I might have got more game time if Ali [Williams] had still been here to take over if Kevvie was substituted.
"But with Ali not here we are down on experience and leadership so that makes it tough for me to get on. But I always prepare each week in case it happens, I have to know all the calls and do all the extras to be prepared."
McCartney started his rugby life as a first five-eighths, but as he slowed in the fourth form at Howick College he moved towards the front row and made representative selections.
He laughs as he recalls that progress and how he is one of the rare white faces when he plays for Pakuranga in Auckland club rugby.
"Yeah something like 80 per cent of the players are Polynesian and I used to be the small white boy playing amongst the big brown boys in Auckland. But I've bulked up a bit and just enjoy the contest and the technical demands of playing hooker," he said.
Blues coach Pat Lam first picked the nuggety hooker for Auckland and has elevated him with the Blues.
He admires McCartney's professionalism, the way he plays and the manner in which he dedicates himself to pushing Mealamu hard all season. The deputy hooker might not be blessed with the natural skills or talent of others, but he worked enormously hard on his fitness and his game.
"He works hard in the gym and puts an enormous amount of work into honing his ability," the coach said. "The boys love him and he was just as pleased as anyone when Kevvie hit the hundred games for the Blues.
"He is always ready to go, he is someone who can handle the wait, he can sit on the bench, but be always ready to start. I have total confidence that if Kevvie goes off as he did last year, that Tom can do the business."
The Blues philosophy, said Lam, was to start Mealamu in most games because of his experience and leadership. But McCartney was always on alert.
"We do not want to burn out Kev, but we also use the words 'toughen up' for the whole squad. Lots of guys keep playing through some pain, but we always have to sort through that with the medical staff to make sure they are all ready to go."