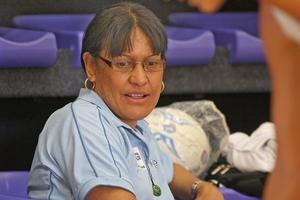 Transtasman netball league coaches Helen Mahon-Stroud and Te Aroha Keenan are approaching this year's competition from vastly differing perspectives.
Mahon-Stroud's Canterbury Tactix team were slammed in last year's post-season player movements, losing four top signings after finishing a respectable if uninspiring sixth out of 10 teams.
In stark contrast, Keenan's eighth-placed Northern Mystics went on a recruiting spree, signing five high-profile netballers as well as a swag of up-and-coming youngsters.
The 17-week league begins on Saturday, with the Mystics first-up at home against last year's beaten finalists Adelaide Thunderbirds, while the Tactix meet table tailenders Central Pulse in Christchurch on Monday.
In other games, last year's beaten semifinalists Southern Steel host West Coast Fever in Invercargill, while Waikato-Bay of Plenty Magic - also knocked out in the 2009 semifinals - have a tough first-up test against defending champions Melbourne Vixens.

The Mystics have, on paper, a team more than capable of securing a top-four finish while the Tactix are expected to struggle, especially given the recent loss of Australian signing Peta Stephens, ruled out at the 11th hour with a chronic shoulder injury.
Keenan and Mahon-Stroud have, however, one expectation in common as the ANZ Championship prepares for its third season of transtasman rivalry: they both want to win.
In her second season with the Mystics, Keenan said that her bevy of new signings had really painted a target on the Auckland-based franchise.
"There's a huge expectation on us because of the players we've picked up. However, you can have the best players, but it's how you put them together that matters," she said.
It is hard to see the Mystics having any problems in that area, with their impressively credentialed newcomers headlined by a trio of Silver Ferns comprising gritty defenders Joline Henry and Larrissa Willcox and international shooter Maria Tutaia.
Although Henry is in doubt for Saturday's game - a niggling calf injury is still not quite right - Keenan had no worries that the 40-cap international would play an important role as the season progressed.
Henry and Tutaia have transferred from the Magic, while Willcox - who made her international debut last year - has shifted allegiance from the Tactix.
The trio will make a huge difference to the Mystics, as will another new signing in Jamaican international Althea Byfield, who has moved north from the Pulse.
Keenan has also tempted former Silver Fern midcourter Jenny-May Coffin away from her television work, and has added three promising youngsters to the roster in Bailey Mes, Kaya Cullen and Sulu Tone Fitzpatrick.
With last year's stand-outs in Silver Fern Temepara George and Samoan Cathrine Latu again lining up, the Mystics have a well-balanced, experienced squad to challenge for top honours, and Keenan said competition in the squad was intense for a starting position.
"We're into our eighth week being together as a squad, but as a playing unit we haven't really had the whole team on court. It can be a bit checkered but it gives everyone an opportunity to try out," Keenan said.
"It's raised the bar, and when you have everyone getting out on court, it drives the whole squad."
In contrast, Mahon-Stroud for the Tactix has had to rebuild almost from the ground up, after losing shooter Jodi Brown to the Magic, English international Sonia Mkoloma to the Swifts and Willcox to the Mystics.
Perhaps the biggest loss has been that of former Silver Ferns captain Julie Seymour, who announced her retirement last year with her fourth child on the way, although the 92-cap international will still be influential as assistant coach.
Mahon-Stroud acknowledged the challenge ahead of her players, but said there would be no compromise in terms of expectations.
"Yes, we have lost a number of what you'd call marquee players, but it has provided opportunites for other players to step into those gaps," she said.
Silver Fern shooter Anna Thompson heads the business end of the court, backed up by New Zealand under-21 youngsters Ashleigh Smith and Ellen Halpenny. Another Silver Fern in Maree Bowden will drive the midcourt in tandem with the rapidly improving Philippa Finch, while Silver Fern Charlotte Kight - the big improver from last year's transtasman league - will direct the defensive end.
"We have got six new players, and that's a big change so we've focused on blending the old with the new," Mahon-Stroud said.
"But at the same time we've built on our team unity and players who have the work ethic and ability to pull together as a team.
"The underdog is a role some teams have played very well, and I think this team has the ability to do that. So watch out."
- NZPA