Sydney FC 4
Wellington Phoenix 2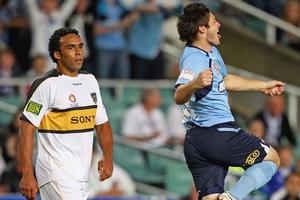 Maradona gave the world the Hand of God. Sydney FC left Wellington feeling the Payne.
Last night the Phoenix were bundled out of the A-League one game short of the grand final in controversial circumstances. With the game locked 1-1 in the first half, substitute Christ Payne scored his second of the night from close range with his arm.
It was blatant, as he missed a header and guided it in with his upper arm, but the officials missed it. The Wellington players, led by skipper Andrew Durante, were apoplectic. Going out is difficult under any circumstances; it's unpalatable when it's courtesy of a handball.
Sydney scored a third through brilliant striker Alex Brosque, who troubled the Phoenix all night, and then a fourth from the equally dangerous Mark Bridge. But it was Payne's second that robbed the visitors of momentum.
In truth, Sydney deserved to progress to next week's grand final against Melbourne.
The minor premiers played slick and skilful football throughout and, in Brosque and Bridge, they had two players whose wizardry was difficult to contain.
But Wellington still felt aggrieved by what took place in Sydney last night in front of a disappointing crowd of just 13,196. And the scoreline hurt.
They had established an impressive record heading into the match and felt they were on the verge of achieving something special.
Last night was their first loss in six games and just their third in 12 matches. It has been one hell of a ride, including the largest crowd for a club match in New Zealand, and continued a golden run for football in this country.
There is still a lot to look forward to, with June's World Cup, but fans would have loved the ride to go on for one more week.
The warning signs were there as early as the eighth minute but Brosque saw his shot, which deflected off Durante, expertly saved by Liam Reddy. It was just the first of a number of close calls.
Wellington were starved of possession and what ball they did have, they gave away too easily. They needed to get Paul Ifill into the game but he was making little impact as he came under close and sometimes heavy cover from Sydney defender Sebastian Ryall.
It wasn't unexpected when Sydney opened the scoring. Payne grabbed his first, just 60 seconds after replacing skipper John Aloisi, when he collected a clever Brosque pass, bumped off Tony Lochhead and steered the ball under Reddy.
It seemed to spark the Phoenix into action because they replied soon after from the most unlikely source. Durante hadn't scored an A-League goal in 85 previous matches but he nodded home from close range from a Leo Bertos free kick that had been flicked on by Vince Lia to get Wellington on level terms.
He had joked previously he was waiting for the grand final but this was just as significant. It gave Ricki Herbert's side a big lift and they enjoyed more possession and territory.
But that joy turned to Payne.
It was always going to be difficult to recover from that. Sydney might not quite equal Wellington's home form of 19 matches unbeaten but they have lost only three times in 14 games at home this season and boast the stingiest defence in the league.
The game looked beyond the Phoenix in the 62nd minute when Brosque scored. Sydney found themselves in a three-on-two situation and Bridge and Brosque combined to good effect.
Bridge then scored his own in the 70th minute, laid on by none other than Brosque, when the pair of them found themselves in acres of space with only Reddy to beat.
Wellington battled manfully and got one back through Eugene Dadi eight minutes from time but there was no way back. The damage had already been done.
The football gods have been smiling on New Zealand football for 12 months at all levels of the game. Last night, though, they gave them no favours.
Sydney 4 (C. Payne 21, 30, A. Brosque 62, M. Bridge 70) Wellington 2 (A. Durante 26, E. Dadi 83). Halftime: 2-1.